Liberty Sophomore and owner of 'AG the Look' helps clients see the potential in their current wardrobes

Anna Grace Birley's fashion business started with just a personal Pinterest board and a Microsoft Word document. Now she helps students all over campus see their wardrobe in a new light.
Birley, a sophomore integrated communications major, shows clients new ways to wear the clothes they already have rather than buying new items.
Birley was born and raised in Marietta, Georgia, a small town located outside the state's capital. During her four years of high school, she worked for a lifestyle blogger in Atlanta, which sparked a desire to follow the lives of fashion bloggers at a young age.
"Whenever my boss asked me to write for her, I would ask to write about fashion," Birley said. "My mom also raised me as a complete girly girl, so we have always loved to go shopping together."
As Birley watched professionals in New York and Paris succeed in the fashion industry, she began to create personalized outfit combinations of her own.
"I like this better than Netflix," Birley said. "I'll look at an outfit on Pinterest and figure out how to create it with pieces I have in my closet already."
This hobby quickly became one of Birley's greatest passions. In high school, she started a Word document full of ideas and combinations for her own wardrobe, even color-coding it for different types of weather.
Once Birley's friends at Liberty learned about her hobby, they asked her to design outfits for their closets as well. After creating a few pieces for her closest friends, Birley discovered she had a passion that could be expanded.
"I completely reinvented some of my friends' wardrobes last semester," Birley said. "The Lord really gave me this vision and passion, so one day I thought to myself, 'Why not make this into a business?'"
Birley's fall semester graphic design class gave her with the skills she needed to create her own logo and website, which she launched in January. Birley also credits her public speaking classes for teaching her how to compose professional emails and engage in conversations.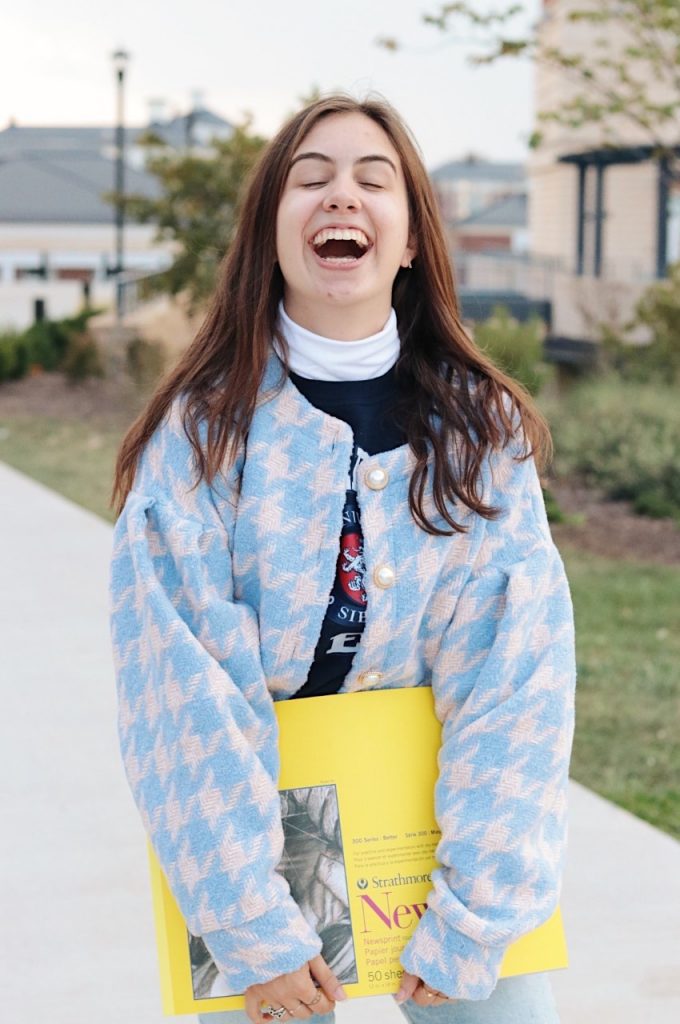 Birley feels people become bored with their closets and often buy new items to reach the stylish look they desire. Rather than telling them what to purchase, she shows what they already own in a new light.
"I like to say I am just a fresh pair of good eyes," Birley said. "You often already have what you need to achieve the look you want."
She also strives to create combinations that are unique to the client and their requests.
"When I put together an outfit, my No. 1 core value is authenticity," Birley said. "I want my clients to feel like their true selves more than anything."
Sophomore Sydney Borchers, one of Birley's clients, echoes Birley's statements. 
"One of the many amazing things about AG is her critical eye," Borchers said. "It's so easy to look at your closet and see the same outfits without even considering another look. AG comes in with a fresh perspective and puts pieces together that you would never think of. She asks you personal questions so that she can help you find a look that is not only fashion forward, but something that helps you be your most confident self."
Because of Liberty's open dorm policy, Birley has the opportunity to offer the male student population a fresh perspective on their wardrobe.  
During open dorms on Super Bowl Sunday, Birley was able to spend the day at Commons 3, creating outfits for one of her male friends in need of fashion advice. She already has two male clients lined up for the next open dorms session, so it is now just a matter of waiting for the day to arrive.
"Now that I have this business, open dorms is my favorite thing ever," Birley said. "I am so thankful SGA (the Student Government Association) is opening this opportunity to be once a month."
Birley offers a $35 flat rate, in which she provides about 35 outfit combinations for the client. She also offers singular outfit requests for $5 and closet clean outs for $10. Her ultimate dream is to bring her company back home to the suburbs of Atlanta.
"No matter where I end up, I am confident I can use my business as a ministry opportunity," Birley said. "Liberty has instilled that in me, and I am just so thankful."
For inquiries and outfit requests, visit her personal website, agthelook.com, and Instagram page @agthelook.
Kazmucha is a feature reporter. Follow her on Twitter.