The Office of Military Affairs continues to invests in veteran students with the new Veterans Center
Liberty University's Veterans Center has changed in not only location, but size and efficiency.
Nov. 13 marked the opening of the new Veterans Center located on the second floor of Montview Student Union moving from its previous location on the third floor. The change has tripled the size of the center and added new additions, including a kitchen, conference room and more computer lab stations.
Jonathan Norman, supervisor of the Veterans Center oversaw all of the moves and changes implemented. Norman attributed the change to Robert Ritz, chief financial officer for Liberty University.
"My favorite part of this space is that it was a decision that was made or pushed from the top. Dr. Ritz was the senior vice president of finance, now CFO. He really championed the need for a vets center. Even down to finding the location for us," Norman said.
Norman said that this center improves upon what the former location lacked. While the previous location was great for generating community, it lacked a private quiet area for those who needed it.
"Student veterans are a totally different population of students. They are typically older. A lot of them have wives and children, and to go home to do homework with young children is not very easy to do," Norman said. "So, to have this place where they can go and have access to actual quiet and organization and all the other resources at their fingertips — it just makes for a better space."
One example of those students is Philip Biddulph. He served in the Army and recently became a 39-year-old freshman on Liberty's campus. Biddulph said he can see a change the new center has made in him already with how he connects with other students.
"On a personal level, the changes in the Veterans Center here at Liberty have aided me in actually connecting with other vets and being a part of a community on campus, something that the old center was not as effective in promoting, due to its practical and physical challenges," Biddulph said.
Biddulph shared how important this center is for veterans because it allows them to have a place of their own.
"We all need people to relate to, no matter what our experiences have been," Biddulph said. "…(Veterans') service comes at great cost emotionally, physically and spiritually. Vets need a space to share, laugh, decompress and find like-minded individuals who can speak into their lives."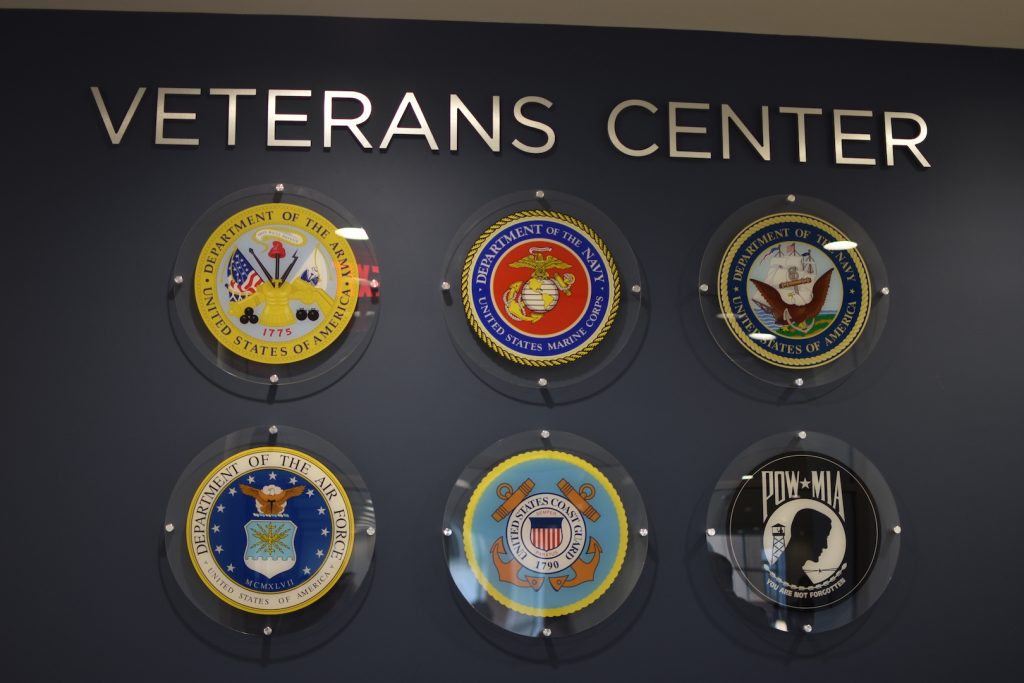 Norman said veterans need to have a unique space since they share a unique culture, specific to veterans.
"They're not only a different population of students, but there's a different culture that you have in the military. So, to transition from the military to civilian education can be much like what some of our international students might experience going from their home country to here," Norman said. "There's so many cultural differences and to make that transition there's a lot of cultural norms that are going to be different for them."
Norman expressed that bringing in more veterans will only help the school moving forward.
"The years (of) experience that you have as a veteran just brings a different point of view, so our campus culture is going to be enriched, just like it's going to be enriched from having an international student." Norman said.
For students like Biddulph, having a university that is so welcoming to veterans is essential.
"Liberty University, you have my respect and gratitude, a thing not easily attained or given," Biddulph said. "We all continue to ask how we might contribute to this university and to the community at large."
Liberty University is known for its commitment to honoring those who have served in the military. It is the first "Purple Heart University" in the state of Virginia, recognizing the university for its commitment to support veterans wounded in combat, and hosts annual events such as Military Emphasis Week and the Military Appreciation Football game Nov. 30 in Williams Stadium.