Men's basketball team wins season opener before the move to Liberty Arena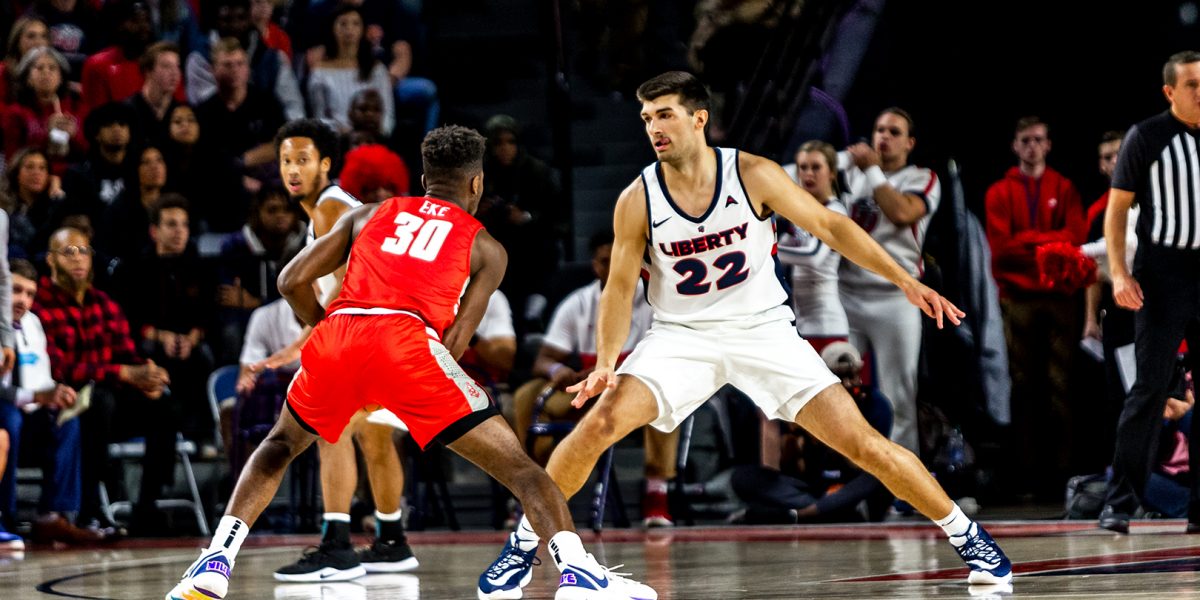 The Flames heated up the Vines Friday on a chilly evening as they pulled off a 66-60 victory over the Highlanders after establishing themselves early in the game, never giving up the lead despite a few close calls.
Flames Head Coach Ritchie McKay said the game was typical of Liberty and Radford's years-long rivalry.
"We've had some really close games with Radford," McKay said. "I knew they were going to come back. This is a really good team. To go up 20 in the first half, I thought we were marvelous. … Hats off to Radford for a really tough, competitive game, but I'm really proud of our group. That could have been one that you can easily start scoreboard watching and then it gets
away from you."
Liberty students made the most of the Flames home court advantage, with 7,872 fans in attendance and sold-out general admissions tickets. Students were given cheat sheets of taunts, and both Jerry's Jokers and Liberty Lunatics showed out in force, filling the Vines with chants and cheering.
"Look, our crowd was fantastic," McKay said. "When you're trying to rebuild a program or get a program to be a contender, you have to be able to have a home court advantage, and tonight we had one.
"To the 7,800 Flames Nation, we owe them a win," McKay continued. "They should put the win on their record because if a home court is worth five or six points, they won the game for us."
But the game was also a bittersweet one, as it officially began the Flames last season playing in the Vines Center, their home for nearly 30 years since it opened in 1990.
The Flames saw contributions from all over their roster, with freshmen Shiloh Robinson and Kyle Rode shining in their Liberty debuts. Rode was second on the team with 12 points, following redshirt senior Caleb Homesley's 18.
McKay said the young contributions were no surprise to him.
"I think our freshmen are really good," McKay said. "I think the biggest compliment for them is our guys trust them. They think that our (freshmen) are really good, and both Shiloh and Kyle made a huge impact on our game."
The freshmen lacked experience but made up for it with aggression. Rode and Robinson recorded 20 points, five rebounds, and four assists combined. Each player assisted the other's first basket.
Rode, who is Robinson's roommate, said assisting each other and playing together was a special experience.
"My teammates did a great job helping me today," Rode said. "It was amazing. Me and Shiloh are roommates and he's been a great friend to me. Every day he brings it in practice, and he competes at a high level and he showed that tonight."
After the halftime break, Liberty let their foot off the gas and struggled through a second-half slump. The Flames entered halftime with a 33-19 lead, but it quickly dissolved into a 40-30 lead with 14 minutes left in the second half as their offense stalled out and the Highlanders began picking up points.
The game came as close as four points when Jones put up a basket in the paint and drew a foul in the process, closing the score to 45-41.
But the Flames turned the game around when redshirt senior Myo Baxter-Bell broke through the Highlanders defense, driving in and tipping in a layup to reignite the energy in the Vines.
The Flames shot ahead after that, with Rode swishing a 3-pointer and Homesley drawing a foul after another Radford basket to bring the score to 52-43.
The Highlanders brought back memories of their 2018 victory in the last minute of the game as they closed within four points again, with Jones sinking another 3-pointer and taking the free throw line with the score at 64-60.
But Jones missed, and the Flames secured the win on two Rode free throws.