Liberty's Annual Security Report details campus policies and crime statistics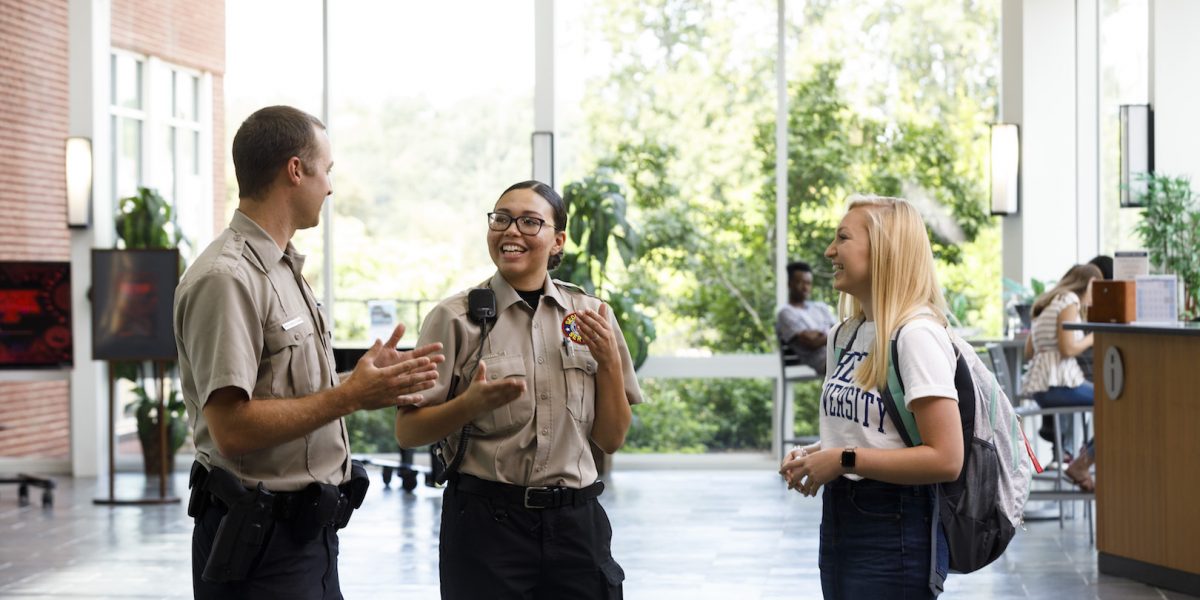 In 2017, Liberty University was recognized as the safest school in Virginia by yourlocalsecurity.com, an ADT affiliate, following the release of the Annual Security Report by the Office of Equity and Compliance.
This year's Annual Security Report was submitted to the Department of Education Oct. 1 as part of an annual mandate. Each year, reports are compiled and submitted to the Department of Education from every university in the United States that receives Title IV funds from the government. Liberty's report includes summaries of 116 policy statements and a compilation of crime statistics that fall into different categories based on the Clery Act.
The Clery Act was established in the late 1980s following the death of 19-year-old Jeanne Clery, who was raped and killed in her dorm room at Lehigh University, according to clerycenter.org. Clery's parents realized that organized reporting standards did not exist for universities at the time and decided to rally for change. As a result, the Clery Act was born, which details various crimes that are required by every university to be reported.
Liberty University's Clery Compliance Officer Todd Campo plays a large role in compiling the information for the annual report.
"The bottom line in the spirit of the report is to let people know where we as a university stand (on campus safety)," Campo said.
According to Campo, Liberty's crime statistics section is compiled from reports largely from LUPD, Community Life and the Title IX office. Resident Assistants and Resident Directors are also part of the reporting process as "Campus Security Authorities." Each report received from these entities is reviewed and determined whether or not it is "Clery reportable," Campo said.
For a report to be deemed Clery reportable, there are two main qualifiers. First, the reported crime must fall within Liberty's "Clery geography," which, according to Campo, is within campus boundaries or university property that is within one mile of the campus. Second, the reported crime must fall into one of the four main categories of crime as outlined by the Clery Act.
The four categories are titled Primary Crimes, alcohol, drug and weapon violations, Hate Crimes and Violence Against Women Act Crimes. Within the Primary Crimes category, reports of arson, burglary, aggravated assault, murder and rape are filed.
According to Campo, it is important to note that just because a crime is reported does not mean that it was verified, investigated or prosecuted. The Office of Equity and Compliance is required to include in the Annual Security Report every crime report deemed Clery reportable, whether the crime was verified or not.
Sometimes, the crime reports are not even filed as a result of action by students on campus, Nathan Hopkins, the executive director of Equity and Compliance and the Title IX coordinator, said.
"The other thing you don't know when the crime statistics are reported, it's not necessarily someone at that school that committed the crime," Hopkins said. "It could be someone visiting the school (or) someone from the public."
Hopkins said he believes three main things contribute to the high safety standard of Liberty's Campus: good conduct rules, no allowance of Greek life and robust RA leadership on residence halls.
"I think we do a really good job at Liberty of trying to keep everyone safe," Hopkins said. "I think we're very attentive and vigilant."
According to Campo, the compilation of the 2020 security report will be underway in January. Through Campo's hard work this year, the 2019 report is about 50 pages less than the 2018 report due to the summarizing of policies. The report also has a new look through a collaboration with Liberty Marketing to make the report more readable and visually appealing. Each Liberty student received a link to the report via email prior to Sep. 30.
Hopkins is hoping that parents and students will be drawn to look at the report and learn about the different departments existing to keep students safe on campus.
"If parents look at (the report), they might also learn other interesting things about the school as they're going through the report that can give them a peace about sending their kids here," Hopkins said.