Profile: Cross-country redshirt freshman back on the course after injury
Few things can hold an athlete back more than a serious injury. 
After a leg injury kept redshirt freshman Joe Spitzer from finishing his first cross-country season for Liberty in fall 2018, Spitzer had to go through months of rehab, frustration and patience to push through his injury. But it all paid off as he ran for a personal record 25:06.8 in an 8-kilometer race at the Virginia/Panorama Farms Invitational Sep. 27.
"I was really happy – I did not know that I was capable of (the personal record) because it was our first hard effort of the season," Spitzer said. "I really did not expect to run as well as I did, (and) I am really thankful that God has blessed me with the talent to be able to do that."
It has been a long road to recovery for Spitzer, something that Assistant Coach Isaac Wendland has coached Spitzer through during his recovery in the indoor season in the spring.
"He is a big surprise to be where he is at fitness-wise, better than we expected which is huge for our team – we are happy with where he is at," Wendland said.
Even aside from being a DI athlete, his electrical engineering major comes with difficulties of its own, but Spitzer has learned to make sacrifices to balance his commitments.
"It has been a challenge being an engineering major and being a runner," Spitzer said. "It has been a lot of work that has required a lot of discipline and
reliance on God."
Wendland has noticed Spitzer's discipline when it comes to his life, both on
and off the track.
"As a distance runner, practice is a small part of what we do. If you are not eating right, sleeping right or drinking enough, it will show up," Wendland said. "Joe, being an engineering major, probably has tons of homework, and will always get enough sleep while still being able to stay on top of his schoolwork. He takes care of all the small things so well that it allows him to succeed in running."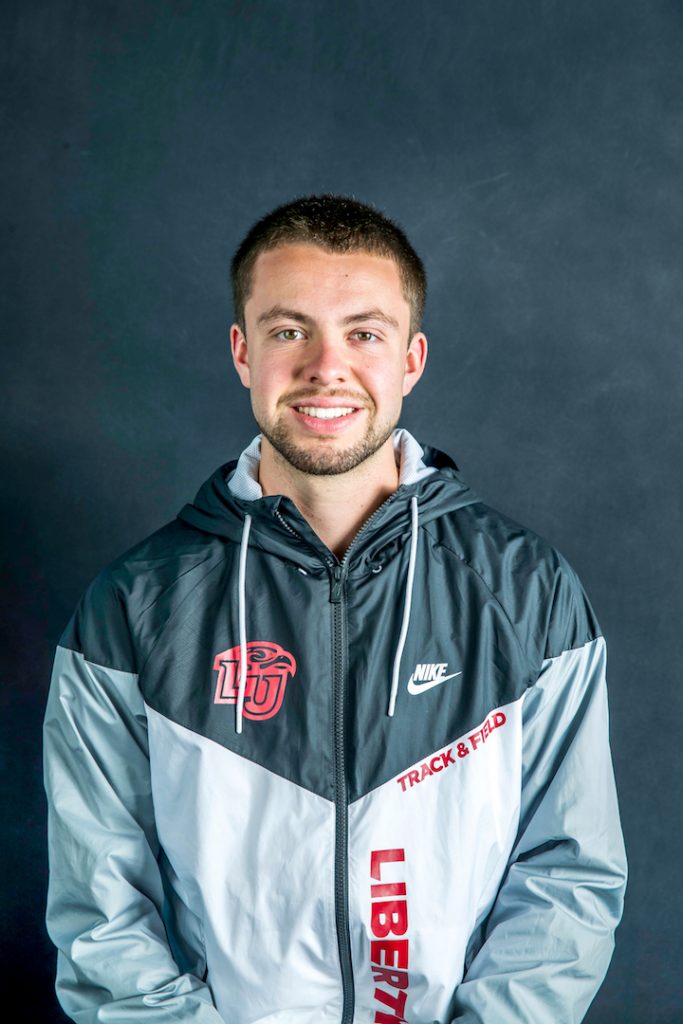 Though the sacrifices Spitzer makes to balance his life might be frustrating for some, Spitzer learned to trust in God's provision as he worked to come back from his injury.
"Being injured was really hard at first, but looking back, it really helped me to get my relationship with God in perspective and being surrounded by other believers, having the opportunity to learn from them and having things like a team Bible study (that) make college a great place to grow in your faith," Spitzer said.
Wendland recalled a time when another coach acknowledged that Spitzer was working hard.
"How could I not with what I represent?" Spitzer replied.
"When you have a kid who has a heart like he does, it is awesome to see them succeed because you know they deserve it,"
Wendland said.
Spitzer loves running for Liberty. He feels comfortable knowing he is surrounded by coaches that want the best for him and teammates who encourage him every
step of the way.
"Running for Liberty is both an honor and a privilege," Spitzer said. "It is also a responsibility, not just running for Liberty but keeping in mind everything that you are running for … we represent Liberty University, and we need to uphold that."