Liberty hosts the annual Homecoming bonfire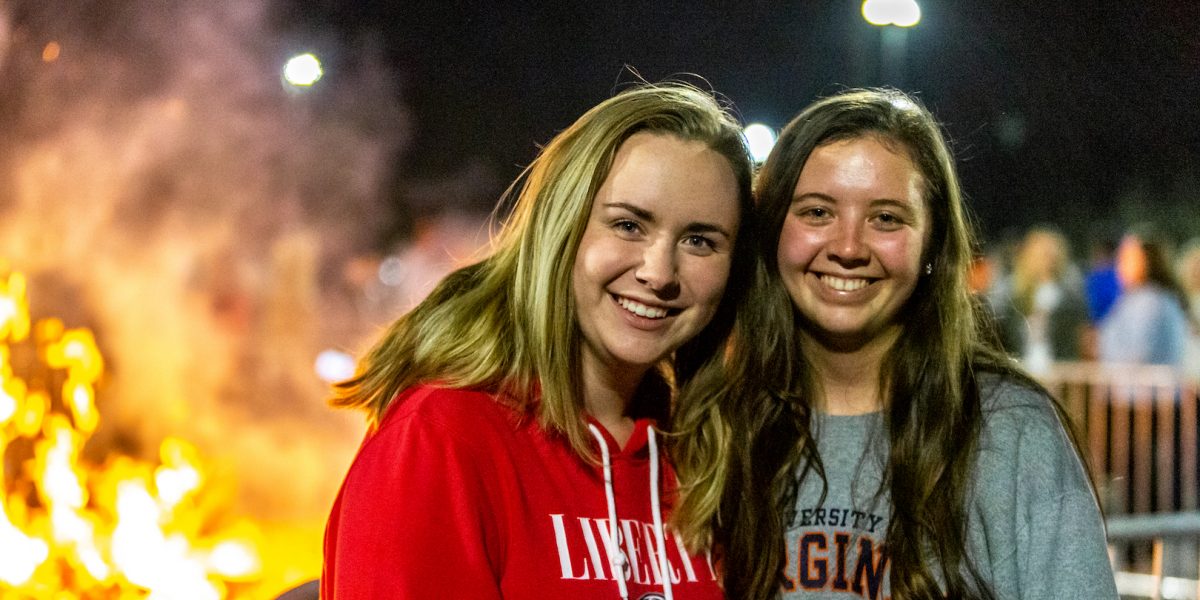 Student Activities hosted its annual homecoming bonfire Friday, Oct. 18, bringing students and alumni together to kick off homecoming weekend.
The stacks of wood sat front and center of the whole event, waiting to be ignited. Once the time came, the wood swiftly caught on fire, casting a soft glow on the surrounding faces. As the fire grew, cameras flashed all around to capture the scene.
Students and alumni gathered at the East satellite parking lot, joining together to celebrate while roasting marshmallows for s'mores. This year, hot chocolate and hot apple cider were added to the offerings.
Sparky, Liberty's mascot, joined the students in roasting their marshmallows and posed for pictures.
Homecoming brings back alumni from all over the country to experience the changes to Liberty's campus, letting them reminisce on all the great times and community that Liberty University provided them.
"The community that you are surrounded by, who have the same beliefs as you, is pretty awesome. That was one of my favorite things I liked about Liberty," Megan Peacock, a Liberty University alumnus, said. "Coming back to that is a really good feeling. I was a marching band member, so I loved the football game. Homecoming weekend was always a good time for us. It is cool to now be on the opposite side of that. It's really exciting to see how things are changing for the good, and what is being done differently, but also what stays the same, so that brings back all of the memories for you."
Another Liberty University alumnus Leane Wayne said she enjoyed her time reminiscing on old memories and seeing the changes that have come. 
"I love the atmosphere here," Wayne said. "There is not much left of
when I was here. Everything is growing."
Denver Peshkin, who graduated from Liberty in 2001, said the campus has changed drastically since his time at Liberty.
"This place is much different than it was when I was here," Peshkin said. "There is not a whole lot left of when I was here, (but) the people have not changed. The Christ-like environment has not changed. Coming back here lets me relive the Christianity that I experienced when I was here, and it's great that I get to experience this with my son."
Throughout the whole event, live music from alumnus Syndi Alexander kept the crowd energized and entertained.
As the large bonfire filled the sky, old and new generations of Liberty Flames joined together celebrating how far the university has come.