Capped off by a grand slam, Liberty women's softball rallied to beat Radford
It was just like a movie.
Down to their last out, the home team was trailing, their best hitter up to bat with the bases loaded and the game on the line.
Liberty senior second baseman Amber Bishop stepped to the plate and delivered a game-winning grand slam home run over the right field fence that culminated a seven-run comeback victory for the Lady Flames over former Big South rival Radford Tuesday night, April 23.
Earlier in the game, after Maggie Rowe smacked a three-run home run over the left field fence to give Radford an 8-1 lead in the top of the fifth inning, Liberty found itself in a big hole.
Rowe's home run was the first Liberty had given up since March 24 and only the 12th allowed all season. The game seemed out of reach at that point, but not for the prolific Lady Flames offense, whose comeback helped Chase Cassady earn the win despite giving up four earned runs.
"Chase Cassady got a W on this one when I'm sure she was thinking, 'Can we score that many runs?'" Liberty Softball Head Coach Dot Richardson said. "And we did it."
Though the Lady Flames were celebrating afterward, the first five innings of the game were anything but joyful offensively, with Radford starting pitcher Kayla Huffman allowing just one run in her first four innings of work.
In the bottom of the first inning, Liberty had its first two runners on base before Huffman got three straight Lady Flames to pop up to end the threat. She continued to slow down the Liberty bats, delivering pitches at less than 60 mph and keeping the Lady Flames offense at bay.
"When you are used to seeing pitchers in the mid-60s (mph) and then you are seeing 54-58, they keep you off-balance," Richardson said.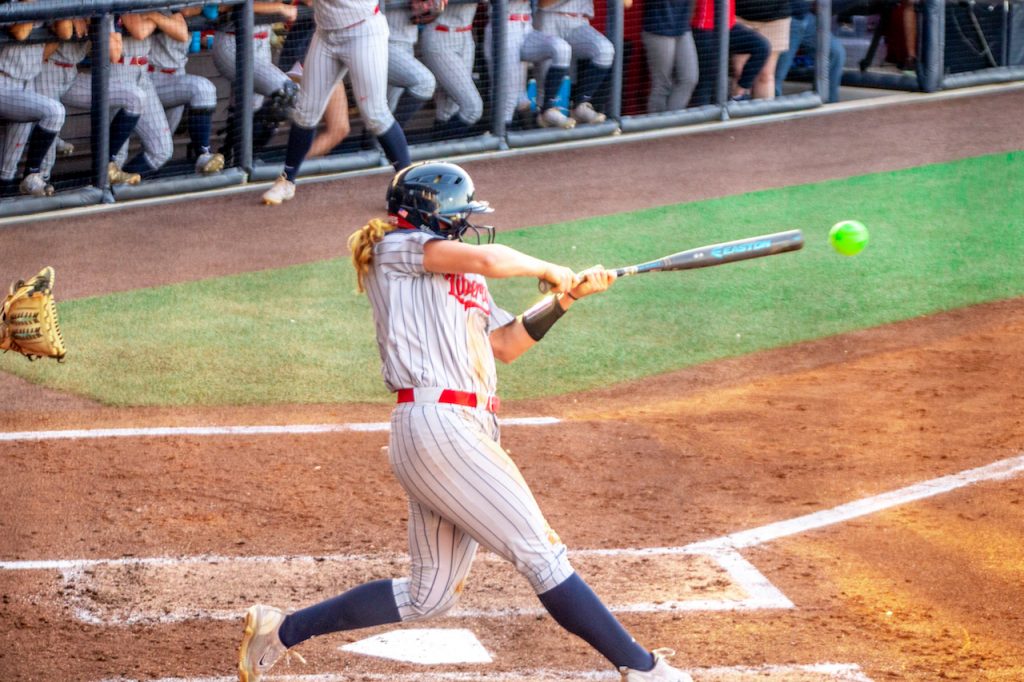 Liberty finally got on the board with two outs in the second inning. Sophomore right fielder Madison Via laid down a bunt for a single, stole second base and then scored on an RBI double from designated player
Deidra See.
"(Scoring) is crucial in those moments, especially because with two outs if you are up to the plate your job is to turn the lineup over," See said. "Scoring a run was just a formality of that."
Liberty took a 1-0 lead but did not score again until the sixth inning.
"I think we were being aggressive, and I don't think there is anything wrong with that," Via said. "Obviously, it paid off in the end."
Via was one of the offensive bright spots for Liberty throughout the game. She finished four-for-four on the night and scored three runs. 
Lady Flames starting pitcher Chase Cassidy breezed through the first three innings of the game. Heading into the fourth inning, she had struck out three Highlanders and faced the minimum amount of batters.
But Radford rallied in the fourth, getting hits from their first two
batters. They scored a run on a single from infielder Hunter Munday to tie the game before Rowe put them ahead with a successful suicide squeeze bunt. Cassidy walked another batter and then was pulled from the game in favor of ace pitcher Julia DiMartino.
The Highlanders scored three more runs after DiMartino entered the game and took a commanding 5-1 lead. In the next inning, Cassidy re-entered for a struggling DiMartino and gave up the home run to Rowe that made it a seven-run advantage for Radford.
Liberty finally responded with a rally in the sixth inning. Alexis Erich began the inning with a walk and then was followed by consecutive singles from Denay Griffin, Kayla Harris and Via, loading the bases for ninth-place hitter See.
See roped a bases-clearing double into the left field gap that shrank the Radford lead to 8-5.
"In that situation, my only job was to put the ball in play," See said. "Getting three runs in was awesome, but one would have been fine."
Liberty added one more run on an Amber Bishop RBI double and put themselves within striking distance of the Highlanders.
After Cassidy shut Radford down in the top of the seventh inning and recorded her sixth strikeout of the night, the Lady Flames got one last rally going in the final inning.
Griffin and Via each got singles and leadoff hitter Autumn Bishop was hit by a pitch to load the bases for her sister, who delivered the game-winning blast.
"It was huge for us (to get the win), especially with a team that we have seen before in the Big South," See said. "(Winning) proved that no matter what pitching we are seeing, we can get the runs in to manufacture a win."
The Lady Flames will close out their regular season at home Saturday, May 4, against Longwood, another former Big South opponent.
Liberty is expected to head into the ASUN tournament as the top seed. Coming off a season in which they fell one game short of a NCAA regional championship, the Lady Flames are poised for another postseason run in 2019.
"We should take this momentum and keep riding it all the way through postseason," Via said.