Mixing creativity and charity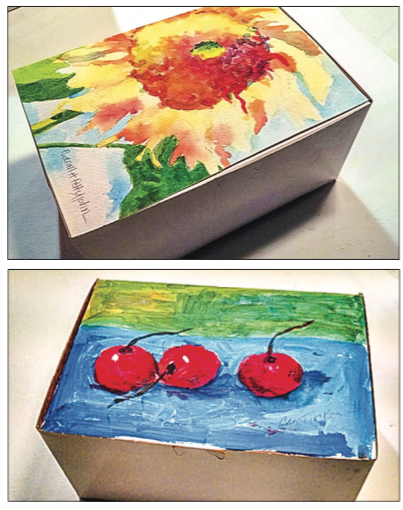 Lynchburg Art Club to host outdoor painting event, tour of historic gardens
What started as a simple Christmas gift of watercolor lessons from a friend resulted in Molly Jenkins discovering a passion for art and joining the Lynchburg Art Club where she currently serves as both a member of the club and a chair for this year's Garden Day festivities.
"As much as I love the art, I love the environment of creativity," Jenkins said.
"Lynchburg is filled with artists, and we have some wonderful artists here. Some of them are very serious about it, and some of them, like me, just do it for fun."
The Lynchburg Art Club was founded in 1895 with the intent of furthering community involvement and contribution to the fine arts in the form of exhibits, classes and active outreach.
Today, the club is headquartered in a yellow, colonial-style house on Rivermont Avenue.
Both floors of the house accommodate various exhibits throughout the year, and this spring promises to bring with it some of this year's finest showcases.
Garden Day, April 25, involves a tour of historic Lynchburg gardens ranging from private homes dating from the 1920s through the 1990s to the renovated Charles Gillette Garden, according to the Garden Club of Virginia's digital tour guide document.
The Lynchburg Art Club will be hosting lunch at the Oakland Country Club from 11 a.m. — 2 p.m. where meals will be served in boxes hand-painted by local artists who are members of the club.

"One of the members emailed us when we reached for more artists to do boxes," Jenkins said.
"She said that she finds doing those small pieces stretched her because she tries things on those 5 ½ -by-8 that she wouldn't on a 9-by-12 canvas. I've done 20 boxes myself. There is no design that is 'typical' for a box."
Prices of the boxes depend on whether they are purchased with lunch, simply as collector's items or through a silent auction.
All proceeds go to the club. Prepaid reservations for lunch close April 20.
Another event that the Lynchburg Art Club is hosting in April is the club's second annual Paint-Out Lynchburg.
This event is more accessible to non-members of the club.
Artists in the community are welcome to participate in the series of contests over the weekend of April 28-30.
The offered "plein air" painting (French for "open air") and "quick draw" contests allow outdoor artistic expression in the Lynchburg area.
Registration sales end April 21.
Perhaps the most community-accessible event offered by the Art Club is the First Friday Exhibit opening, which showcases the work of select local artists.
March's exhibit features the work of Red Cesafsky, Anna Maria Filiaggi and Jurgen Ziesmann.
Attendance is free, and the artists often sell anything from framed works to stationery.
But the real gain, especially for the aspiring artist, is  the experience.
"It's a good way to get a real feel for the kind of work we have available," Jenkins said.
"And it's an opportunity to get a real feel for the artist community here. It's absolutely fascinating."
Jenkins said students at Liberty University are welcome to get involved in the Art Club, whether for membership or internship.
"Membership requires volunteer service, and that can be done by helping with a show," Jenkins said.
Assisting with an exhibit may involve bringing in works, setting up refreshments, or answering the telephone.
The club thrives off of the community's service.
"We have just one office manager and one bookkeeper, Jenkins said.
"Other than that, everything we do is volunteer-based."
If students are interested in opportunities with the Lynchburg Art Club or in any of the events, they may contact the club at (434) 528-9434.
Jarrett is a feature reporter.