From across the pond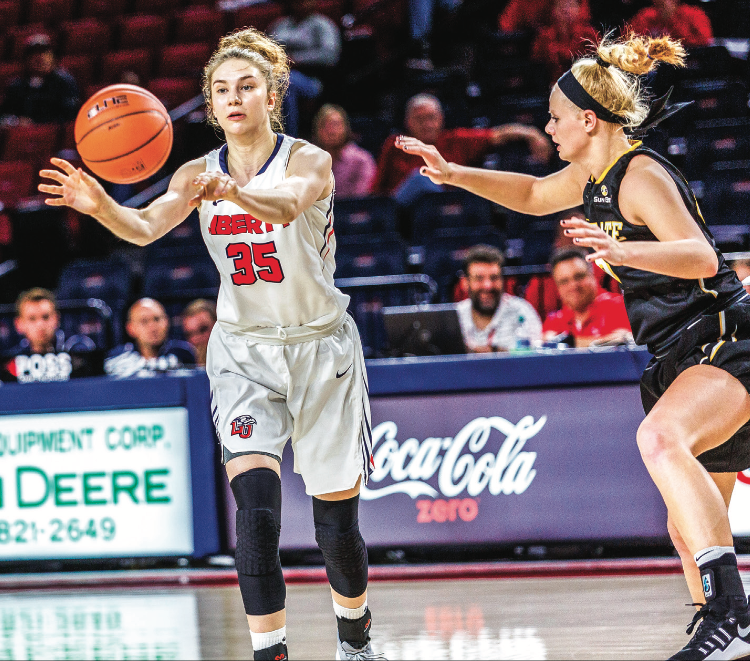 Freshman forward from Poland making an early impact
Poland native Ola Makurat has played basketball all her life. Now she has the opportunity to play NCAA women's basketball as the freshman guard and joins Head Coach Carey Green and the Lady Flames squad this season.
"Since I can remember, a basketball was always within my sisters and (my) reach," Makurat said. "My parents play basketball. My mom is a former athlete for Poland, and she basically coached my dad. We were all very close."
Makurat left her home at the age of 14 to attend Sports Championship School, an all-girls boarding school in Lomianki, Poland, where she lived with 24 other basketball players.
"I always had wanted to attend that school," Makurat said. "I got an offer to attend from coaches before high school. I didn't think about the offer too much because it's the best school in Poland. The players who were in this school play on the national team."
The Sports Championship School's mission was to challenge each player to compete at the highest level. Makurat herself went on to play for Poland's U-18 and U-20 national teams. Through her experience on these teams, Makurat met Green.
"Coach Green came to my school in Lomianki three years ago to recruit my friend," Makurat said. "He was watching our practice and our games. Unfortunately, she didn't come here, but after his visit, we went to the European championship in Portugal. Coach Green came there as well and had the opportunity to observe me on the court."
After these important matches, Makurat had to take a year-long break due to surgery, but she stayed in touch with the coaches.
That year, she prepared for entrance exams so that she could attend Liberty University.
"I took English in primary school, but I only learned a few words — nothing special," Makurat said. "In the year before I attended Liberty, I realized I needed to learn more and take classes to prepare for those exams."
In school, Makurat's English classes focused on grammar and writing, but speaking was not a frequent practice in the classes. She said language has been her biggest challenge since coming to the United States.
"All the time, I face new challenges," Makurat said. "Even doing things like this interview is hard because of the language barrier. Also, I just miss my family and my friends. Language is different. Food is different. Here, we grab fast food. In Poland, it is always big meals."
Though America presents many challenges for Makurat, she is eager to take advantage of the cultural opportunities.
"There are lots of differences between America and Poland," Makurat said. "People here have a different mentality. I want to be more confident, and here I can grow in my confidence on and off the court. People here are more motivated, have more energy, and encourage one another."
Makurat said Green has significantly impacted her first few months here at Liberty through guidance and acts of kindness.
"The first month was hard because everything was new," Makurat said. "However, I felt at home. On my birthday, I had dinner with Coach Green. After we had a bad game, we talked, and he wanted to give me a book to help me improve."
Makurat studies sports psychology, but wants to return to Europe to play professionally after college. Eventually, her goal is to be both a psychologist and a personal trainer.
She said she looks up to her parents for wisdom and wishes to reflect their hard work and faith.
"They really love God," Makurat said. "I would like to be like my mom. I admire her attitude, and I would like to grow in Christ. She is such a strong woman."
"I am not someone who likes to think about the future," Makurat said. "I have one big goal, but I am focused on this day. Before the game, I am trying not to think about the game. During games, I am focused on playing and taking responsibility for shooting."
Makurat and the Lady Flames take on West Liberty Dec. 10 at 11 a.m. in the Vines Center.
BALL is a sports reporter.