Downtown adventure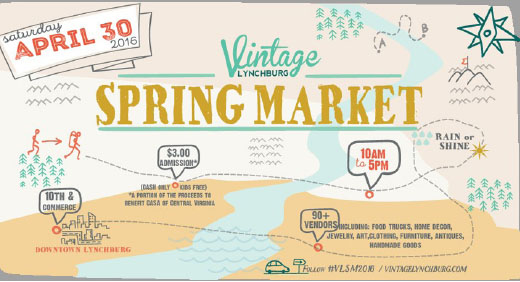 Vintage Lynchburg retail market showcases local artists, small businesses
Vintage Lynchburg, a semi-annual event that celebrates the local artistic and entrepreneurial community, is coming to downtown Lynchburg for the eighth time.
Co-owners Leah Wiebe and Kelly Pittman will host the spring market from 10 a.m. – 5 p.m. April 30.
The market will be held at the Urban Arts Garage, which is on the corner of 10th and Commerce Street in downtown Lynchburg.
Vintage Lynchburg began in December 2012 and has opened for a spring market and holiday sale every year since.
The market has grown from just 800 visitors to 3,800 visitors at the last market in 2015.
"Obviously, this is a shopping retail vendor market, that's what we are," Wiebe said. "But we also want to create a community experience where you can come and just enjoy the whole day out with your friends or family. There's balloons for kids, a free photo booth and live music."
This market will feature goods from nearly 100 vendors. There will be food trucks as well as vendors selling goods such as jewelry, clothing, art, furniture and more.
According to Wiebe and Pittman, vendors apply for the market several months in advance.
Then they curate the vendors based on their goods and variety.
"It's got such a good variety of things that, without sounding cheesy, I think there really is something for everyone," Wiebe said.
The general theme for this spring market is adventure, according to Wiebe and Pittman.
According to Pittman, the theme is to inspire people to adventure in their own city and look for opportunities that are right where they live.
"We are really trying to promote getting out, doing stuff (and) having fun," Pittman said.
"Adventure where you are."
Each Vintage Lynchburg supports a different local non-profit organization.
This spring, a portion of the ticket sales will go directly to Court Appointed Special Advocates for Children (CASA) of Central Virginia.
"That's a really big, important part of what we do," Wiebe said. "So this sale will have a different non-profit that we are promoting, which is CASA."
Wiebe and Pittman aim to keep consistency in their market, and they continue to look for new ways to make it better each time.
"Our shoppers can come and know what they're going to get," Wiebe said. "They know it's going to be awesome. They know what they're getting, but we want to also find small ways to do better. So it's a lot of the same stuff, but better."
According to Wiebe and Pittman, they want to make an impact on the community and encourage other local artists to pursue their dreams of owning their own business.
"We also want to be sort of a platform for people to be inspired, to encourage people … and we can help you to kick start your business," Wiebe said. "We can give you a platform to really be a grand opening."
As owner of Regeneration, a business centered around reclaiming vintage furniture, Wiebe and her previous business partner set out to market their products  in a new way.
"At the time there just didn't seem to be very many opportunities for people who maybe had an Etsy shop … but there wasn't a place ever to physically sell their items and so it felt like a real need at the time, and I think it still does," co-owner Wiebe said.
Wiebe and Pittman believe Vintage Lynchburg will showcase many of the talented people from Lynchburg and the surrounding areas.
"I think really what I hope that people see at our event is the local flavor of creativity—to see what's happening in Lynchburg on a creative level," Wiebe said.
The market will have something for all ages to enjoy, according to Wiebe and Pittman.
"It's just a really fun, family experience," Pittman said.
Early bird tickets are sold out online, but regular admissions at the door will be $3. Children get in for free.
Hand stamps will be included so attendees can come and go without paying again.
Sweeney is a feature reporter.