Staff members rewarded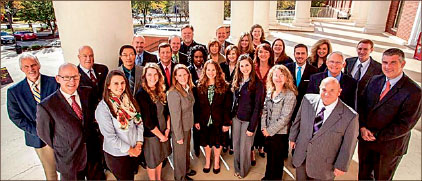 Liberty faculty to receive free pastry from Starbucks during the month of September
Liberty University faculty members have the job of serving students on a daily basis. So throughout September, in honor of Faculty Appreciation Month, these hard-working members of Liberty will be celebrated for their contributions to the university.
According Dining Services, the staff of Liberty will be treated to a free pastry with a purchase of any grande beverage at Starbucks in the Jerry Falwell Library. They may choose any pastry, and there will be no limit to the number of visits throughout September.
Casey Guise, unit marketing coordinator of Sodexo, said that over the summer he, along with others from Sodexo, wanted to celebrate the employees on campus by showing appreciation of their patronage with a little treat to brighten their day.
Guise said that he did not want to put limitations on the number of times the staff could indulge in their month-long luxury. He said he knew Starbucks was a beloved brand that most of the staff would enjoy.
"Coming into the semester, I thought, 'We have to dedicate a month to faculty somewhere on campus,'" Guise said. "Starbucks became a great place because it is a great location with faculty coming into the library. Hopefully, it is convenient for them."
With the majority of Starbucks' customers being students, Guise hopes to bring in a new group of consumers through the staff. Guise noted that creating a relationship between the professors and the baristas over a quick cup of coffee is important.
"Our staff here (at Starbucks) gets to know the faculty that come in, and that is really, very special … in building that connection," Guise said.
Although most of the dining services' patrons are students, faculty members are just as important when it comes to dining options. Starting this semester, staff members are offered the same meal plans that the commuter students can purchase.
"I really want faculty, who are here … just as much as commuter students … to be able to dine and save money," Guise said.
Students are encouraged to do their part in showing gratitude towards their professors. According to Guise, who taught at Liberty during graduate school, small gestures of kindness toward the professors mean the most.
"Simple things go a long way, (like) taking the time at the end of class to say, 'Thank you,'" Guise said. "If the professor is taking prayer requests from the entire class, it is very considerate for a student to raise their hand and ask, 'What is something we can pray about for you?'"
COLEMAN is a news reporter.