Lench picks Liberty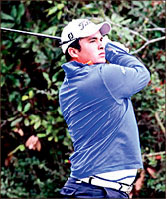 World ranked golfer joins the Flames, hopes to win national championship
Gabe Lench dreamed of being a golfer ever since he was two years old. This year, Liberty University made that dream a reality.
The Liberty University freshman golfer started at a very early age.
"I picked up a club at (age) two," Lench said. "I started playing tournaments when I was four."
He learned both golf and baseball through his father and brother, eventually giving up baseball to place all of his focus on the greens. After turning his full attention to golf, he fell even more in love with the game.
"I love (golf)," Lench said. "I can just go out on a golf course and play 36 holes and enjoy myself and not have a care in the world to deal with. It's something that I've always loved to do."
Although he is a talented golfer, Lench is no different than other college students. When he is not busy with golf or homework, you might find him spending time with his friends playing pool or ping pong or watching his favorite movie, Forrest Gump.
Lench could barely contain his emotions when he got the opportunity to come play golf for the Liberty men's golf team.
"Liberty was one of the only schools that watched me carefully and wanted to recruit me," Lench said. "(Head Coach Jeff Thomas) sent me numerous emails trying to get me over here. I responded to them and they gave me a great opportunity."
Lench says that Thomas was a key reason that he wanted to come to Liberty.
"He's not a regular golf coach," Lench said. "He loves to have fun. He's not a boring golf coach, so everything we do is entertaining. That's one thing that set Liberty apart (from other schools)."
Lench told a story about Thomas knocking over golfer Michael DeMorat's golf bag on the driving range during a practice and walking away quickly before DeMorat saw that it was him.
"He would do the most random stuff just to get a laugh out of everyone," Lench said.
Thomas was thrilled to add Lench to his golf team this fall.
"It is exciting to have Gabe join our program this fall," Thomas said on libertyflames.com. "He has won at every level and has proven himself as one of the best amateur golfers in the world. He is a fun guy to be around and works very hard at his game. I am enthusiastic about his future and know God has brought him to Liberty with a purpose."
Lench comes to Liberty ranked No. 47 in the World Amateur Golf Rankings and he ranked as high as the No. 3 among amateur golfers in the country according to Golfweek.
According to libertyflames.com, Lench shot a 10-under par 206 to win the 2015 AJGA CB&I Boys Championship last February, a title also won by Tiger Woods, Jordan Spieth and Rickie Fowler.
Lench led Lake Mary Prep to victory in the 2014 Florida High School Athletic Association Class 3A State championship and was named the Orlando Sentinel's Boys Golfer of the Year.
He believes his aggressive style of play and positive attitude are two things that set him apart from other golfers, and that he can help the Flames win a national championship.
"I like going for everything," Lench said. "I really don't try to hold back anything because I just want to leave it all out there. It doesn't really matter what happens when I mess up because I trust myself and what I can do. I just stay in the moment and keep my head up."
Despite all the accolades, awards and honors, Lench never forgets what is most important.
"Before every round I always talk to my dad and we pray," Lench said. "I always give the glory to God in anything I do. Without him and what my parents have done, I would not be here."
Dillard is a sports reporter.