Lefty dominance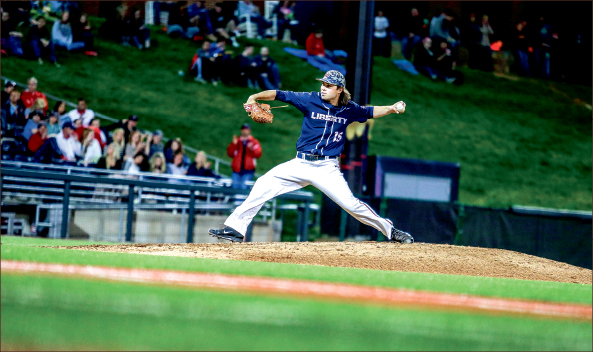 Flames pitching shuts down Gardner-Webb to earn series sweep
After the first pitch of the game was hit up the middle for a base hit, nobody knew that it would be the hit that kept Liberty southpaw Jared Lyons from a no-hitter. However, 106 pitches later, Lyons got his ninth strikeout of the day to win his seventh game of the year, keeping Liberty in the hunt for the Big South title.
"The first inning I felt like ehh, whatever," Lyons said. "But after that, I had to really focus in. Friday night-lights — you got the crowd going — you gotta win that big one."
With the 5-0 win Friday, April 24 over Gardner Webb (19-23, 5-11 BSC) the Flames (26-16, 12-4 BSC) stayed in a tie for second place with Coastal Carolina in the Big South Conference.
Liberty scored the first of its four third-inning runs when senior Becker Sankey doubled down the left field line to bring home junior Dalton Britt. Sophomore Will Shepherd came to the plate with senior Alex Close on third and Sankey on second, and hit a sacrifice bunt that brought in two runs after an error at first base. Sophomore Andrew Yacyk drove in the last run of the inning with a sacrifice fly to center field.
"We swung the bats," Liberty Head Coach Jim Toman said.
"We hit the ball harder than we have hit it all year."
In the top of the third inning, senior Clay Keranen showed his athleticism when he made a diving save and then threw from his knees to first base for the out.
Lyons made quick work of the next five innings and got through the top of the eighth having only thrown 88 pitches.
"As a pitcher I want to make sure that this is my mound and that this is my field," Lyons said.
Liberty added another run in the bottom of the eighth with an RBI from Yacyk that made the score 5-0.
With one out in the top of the ninth, senior Ryan Hodge was hit by Lyons and advanced to first base. Hodge then advanced to second on a groundout. With redshirt senior Sam Fulginiti at the plate, Lyons threw a wild pitch that allowed Hodge to advance to third and Fulginiti was walked. In all the madness, Toman never got anyone going in the bullpen.
"I was gonna leave (Lyons) out there till it was about 5-4," Toman said. "We didn't even loosen up Close or Perritt. That was his game to win or lose.
He earned that."
Lyons struck out the next batter he faced to finish off his complete game.
Game 2: Liberty 3, GW 2
Paxton hit a walk-off single in the bottom of the ninth to give the Liberty baseball team (27-16, 13-4 Big South) a 3-2 win over Gardner-Webb (19-24, 5-12 Big South) Saturday April 25 at Liberty Baseball Stadium.
Close got his first win of the season in relief for the Flames to move to 1-1 on the year. Junior Brad Haymes took the loss for the Runnin' Bulldogs and dropped to 1-3 on the season.
Flames junior left-hander Victor Cole continued his stellar season by tossing eight innings and allowing one earned run on five hits while walking one and striking out eight.
"(Victor) really spotted his fastball today," Toman said. "And at one point (in the game), he was using it almost exclusively, but he has a good, sharp curveball as well and a good changeup. So all three pitches were working well … and he kept them off-balance."
The Flames struck first after sophomore third baseman Sammy Taormina drew a two-out, bases-loaded walk to force in Perritt from third and give Liberty a 1-0 lead.
The Flames added to their lead in the bottom of the fifth when Perritt and Britt hit back-to-back singles to put runners on the corners with one out. Close followed by grounding out to second to score Perritt and extend the Flames lead to 2-0.
Cole did not allow a run until the eighth inning, when senior pinch-hitter Brantley Smith drove a 1-0 pitch into the Flames bullpen to cut the deficit in half, 2-1.
Close came in to try and earn the save in the ninth, but sophomore pinch-hitter Matt Simmons reached first with one out when Flames freshman back-up first baseman Corey Howard dropped a throw from Britt. Redshirt junior pinch-hitter Will Canady followed with a hit-and-run single to left, scoring the pinch-runner from first and tying the game, 2-2.
"I was kind of kicking myself," Close said. "I didn't think I made a bad pitch, but (Canady) hit it where we weren't. But the guys did a good job of staying energized … and it was little exciting to have a chance to walk off."
In the bottom of the ninth, sophomore pinch-hitter Nick Salisbury led off with a walk and was replaced with sophomore pinch-runner Tray Roberts. Roberts then stole second and advanced to third on a groundout by junior pinch-hitter Nick Walker. With one out, Paxton hit a 3-1 fastball back through the middle to score Roberts and win the game for the Flames.
"I told Nick I didn't want him to go up there and walk," Toman said. "A lot of times he'll get tentative late in the game and try to walk, but we were trying to get the game-winning hit … but he hit it well up the middle and I'm very proud of (Nick)."
The last walk-off hit for Liberty came on April 27, 2014 when Close hit a bases-loaded single to score Ryan Seiz and give the Flames a 4-3 win against UNC Asheville.
Game 3: Liberty 3, GW 0
Liberty completed the series sweep of the Runnin' Bulldogs with a 3-0 win Sunday, April 26.
Liberty collected 11 hits in the game and put one run on the board in the third, fourth and eighth innings. Sophomore right fielder Will Shepherd scored all three runs for Liberty on two RBIs from Yacyk and a sacrifice bunt from Salisbury. Shepherd also recorded his first three-hit game of the season and added two stolen bases.
Junior center fielder Aaron Stroosma and Close had two hits each for the Flames. Close has reached base in 34 straight games. Britt also added a hit in the contest, extending his hitting streak to 11 games, the longest streak for any Liberty player this season.
Senior left-handed pitcher Shawn Clowers (9-3) registered the first shutout of his career, allowing only three hits and striking out six while walking two. Sunday's game also marked the first complete game of Clowers' career.
Following the win, the Flames moved into a three-way tie for first place in the Big South with Radford and Coastal Carolina.
Liberty will play James Madison Tuesday, April 28 at 7p.m. at Liberty Baseball Stadium.
Schmieg is the asst. sports editor.
Vandenbosch is the sports editor.
Brown is the former editor-in-chief.