Beating the odds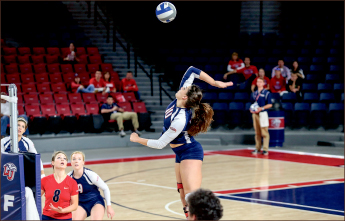 Lady Flame Caroline Douglas pushes past two serious injuries
Caroline Douglas is having the best season of her life.
The redshirt junior outside hitter on the Lady Flames volleyball team has been one of the best players in the nation, leading her team to a 22-5 start, including a current 13-game win streak. She leads the entire nation in total attacks and is second in total kills.
But, while Douglas is enjoying a dream season, her journey to get there has been a nightmare at times.
While attending J.H. Rose High School in Greenville, North Carolina, where she won two state championships, Douglas tore her Anterior Cruciate Ligament (ACL) on April 3, 2010, of her junior year. This injury kept her out of volleyball until about midway through her senior volleyball season.
After a successful return, Douglas was playing a match with her club team when disaster struck again. It was exactly a year later, and it was another ACL tear.
While the injury was bad enough, Douglas said that Liberty's coaches, who were recruiting her at the time, were there watching her play. Still, Liberty gave her a scholarship and she arrived in Lynchburg ready to go through
another rehabilitation.
"I had to pretty much re-learn how to walk again," Douglas said. "I learned how to use all my small muscles around my knee and build those up."
Douglas said that doctors told her she would have to wear a knee brace the rest of her volleyball career after the second tear.
With a careful rehabilitation plan in place, Douglas did not resume volleyball activities for nearly a year, forcing her to miss her freshman season and declare a redshirt.
When Douglas was finally able to return to the court, it was not long before she caught the injury bug again, tearing a muscle in her abdomen.
"I had not been swinging that hard," Douglas said. "My body was not used to that quite yet."
Still, Douglas battled through the injury and did not miss a match, going on to win Big South Freshman of the Year and Big South Player of the Year. She became the first player in conference history to win both awards during the same year.
Douglas looked to build on her dominant freshman year, but the abdominal muscle injury flared up again. While doing rehab, Douglas developed a stress fracture in her fibula. According to Douglas, her past ACL injuries were partially to blame for the stress fracture, as well.
"I was overcompensating for my right knee," Douglas said. "It was in the lower part of my right fibula, more toward the ankle."
The injury kept Douglas on the sideline for the first 17 games of the season before she came back midway through the team's
conference schedule.
During this time, Douglas was advised by doctors not to practice as much as in the past.
"I could practice for about 30 minutes on one random day a week," Douglas said. "I ended up playing in more games than I
practiced for."
After a 3-14 start to the season without Douglas, the Lady Flames turned their season around when their star player returned, finishing the year out 8-4, narrowly losing to Radford in the Big South Tournament championship match.
In the spring of that year, Douglas' abdomen injury flared up once again, leading to another overcompensation-related injury, this time to her shoulder.
"The injuries were all sort of a chain reaction," Douglas said. "I was and am always trying to get healthy again."
Not many athletes are able to overcome the injuries Douglas has, much less return and perform at an even higher level. Douglas' mental toughness has helped her through the past few years as much as anything.
"It was just about me being tougher than my circumstances," Douglas said. "I did not let my circumstance dictate how I was going to act or who I was going to be."
Lady Flames Head Coach Shane Pinder has had a front row seat to Douglas' journey to success. He noted Douglas' "team-first mentality" and passion for the game as her biggest attributes.
"(She has great) passion for the game and a determination to be out on the floor," Pinder said. "Her mentality allows her to have great influence with our team and its success."
Teammate Gabby Shipe has also seen Douglas grow as a person and a player through all that she has overcome.
"Throughout all the injuries, she has been through and played through, she never showed or made it known that she was in so
much pain," Shipe said. "She is the toughest girl I know."
BRITT is a sports reporter.