Big South prepares for action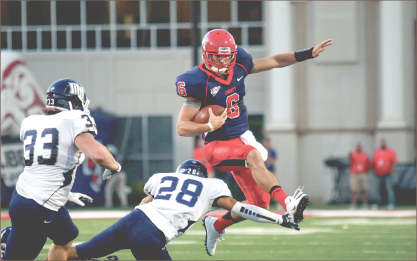 Preview for the upcoming 2014-2015 Flames football conference opponents
The Liberty Flames football team will kick off conference play against the Gardner-Webb Runnin' Bulldogs Oct. 25 for another season in the Big South Conference and attempt to defend as co-Big South Champions. After losing Virginia Military Institute (VMI) to the Southern Conference, Monmouth University took the Keydets place as the sixth and final football team in the Big South. These are the teams that the Flames will have to defeat if they are to retain their title.
Coastal Carolina Chanticleers
The reigning co-Big South Football Champion Chanticleers were named the favorites to defend their title in the Big South Conference's preseason poll. Coastal Carolina is coming off a conference-leading 12-3 record while going undefeated at home.
The Chanticleers maintained the No. 1 offense with the most passing and rushing yards and touchdowns. They had three of the conference's top
ten rushers.
Running back Lorenzo Taliaferro, last season's leading rusher in the conference, graduated this past summer. Junior quarterback Alex Ross and sophomore De'Angelo Henderson, who finished last season with the sixth and seventh most rushing yards respectively, will pick up the slack in Taliaferro's absence.
Ross led the Big South in both touchdowns and passing yards. Ross and Taliaferro combined for seven touchdowns last season against the Flames. While Coastal allowed the most touchdowns in the 2013 season, the top two conference-leading tacklers junior Richie Sampson and senior Quinn Backus will return.
Gardner Webb Runnin' Bulldogs
Senior quarterback Lucas Beatty finished third last season in passing yards and touchdowns. Beatty's top target Kenny Cook returns for his senior season after leading the conference in receiving yards and receiving touchdowns.
According to an article on gwusports.com, Beatty was sharp in a recent scrimmage. Running back Juanne Blount finished third in the conference in rushing yards and in touchdowns. The Runnin' Bulldogs finished fourth in the conference last season and are expected to finish fourth in the conference this season, according to the Big South Conference 2014 preseason poll. Blount, Cook and Beatty were responsible for 30 of Gardner Webb's 32 touchdowns.
Charleston Southern Buccaneers
The Buccaneers finished third overall last season. Senior and sophomore running backs Christian Reyes and Mike Holloway both finished in the top 10 in rushing yards last season. They also finished second in rushing yards, yet they finished third in rushing touchdowns.
However, the Buccaneers finished last in passing yards last season. Charleston Southern linebacker and defensive back Chad Geter and Demaris Freeman both finished in the top 10 in solo tackles. Both Geter and Freeman will be returning this season.
Presbyterian Blue Hose
Presbyterian College's football team has not had a winning season since 2007. Presbyterian finished last season 3-8 overall with only one conference win. Head Coach Harold Nichols and the Blue Hose are bringing back senior Demarcus Rouse, Presbyterian's leading rusher.
Sophomore quarterback Heys McMath became the starter in the last six games of the season, according to gobluehose.com. He completed more than 50 percent of his passes, threw for 10 touchdowns and also ran for two touchdowns, according
to gobluehose.com.
Monmouth Hawks
The Monmouth Hawks are the newest addition to the Big South Conference, and they begin conference play against Presbyterian Oct. 25. They are replacing the VMI as the sixth and final team in the conference.
The Hawks finished with 1,917 rushing yards and 2,489 passing yards last season, which would have placed them fourth and fifth in the Big South last season, according to gomuhawks.com.
Quarterback Brandon Hill finished his junior season with 19 touchdown passes. Running backs Julian Hayes and K.B. Asante lead the rushing attack for the Hawks. Hill will also have his top three receivers Neal Sterling and Lamar Davenport, who caught nine of Hill's 19 touchdown passes, according to gomuhawks.com, at his side next season.