May 10 brings unique, family graduation
As their paper-writing and project-planning college careers draw to a close, many seniors are making big plans for graduation weekend.
Most seniors can look into the crowd at their significant other or their parents as they sit on the Williams Stadium football field surrounded by the other graduates. However, instead of having to look into the stands to find those closest to him, one graduate will have two of his loved ones alongside him.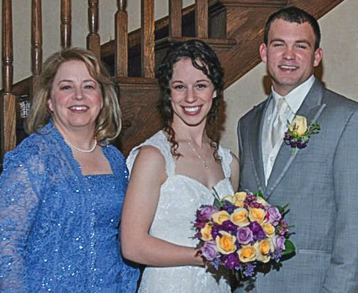 Zach Conard, a senior who will receive his bachelor's degree in intercultural studies in religion May 10, will be joined by both his wife and his mother-in-law.
Zach Conard met his wife, Sarah, at Liberty in the Reber-Thomas Dining Hall.
"I met her in the salad line on a Sunday," Zach Conard said. "… She was in her pajamas, and I made a comment to her about it. We started talking after that and have been married for two years."
Sarah Conard will be receiving her bachelor's degree in elementary education.
The couple feels that the Lord is calling them to a cross-cultural life, and in response to that call, Sarah Conard has been applying to jobs overseas.
"I grew up with a dad in the Marines, so we traveled a lot, and that's how I knew I wanted to work internationally," Sarah Conard said. "… We really have a heart for international discipleship and to be able to finally begin that part of our life together is so exciting."
Sarah Conard is currently applying for jobs in China, Thailand and Mexico and the couple could potentially be moving as soon as June 2. Zach Conard expressed his feelings of excitement for his and his wife's post-graduation plans.
"We are looking forward to celebrating what's happening now, graduating as a family, but also the future plans," Zach Conard said.
The couple will also be graduating with Sarah Conard's mother, Sandy Zeloof.
Zeloof is an online student who will be receiving a Bachelor of Science in nursing after years of wanting to pursue school again, according to Sarah Conard.
"My mother graduated from the Liberty online program with her master's in counseling, and I think my mother-in-law saw her experience and realized she could do it, too," Zach Conard said. "… So she did, and she has finished her degree in two years. We are so proud of her."
To celebrate such a unique graduation, the Conard family has invited family members and friends to a cookout at their house after the ceremonies for all three graduates.
For Zach Conard, graduation in May means more than just a ceremony marking his success. It marks a new future for him, his wife and his mother-in-law.
"After all of our hard work, it's going to be great to cross the finish line together," Zach Conard said. "… We are all so excited."