Impact Movement spreads gospel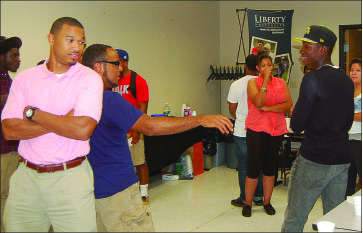 After being inspired to change the lives of college students through God's word, senior Macklyn Mosley created the first official Impact Movement chapter at Liberty University, January 2013.
According to Mosley, the mission of Impact is to take the gospel of Jesus Christ into surrounding campuses and communities. Impact is a part of Campus Crusades for Christ (CCC), which is a global mission to spread the gospel through ministries, chapters, projects and missions across the world.
"I knew this was something I wanted to do, and it was what the Lord wanted," Mosley said. "He called me to do this. Impact essentially does the same things as CCC, but we are more contextualized to a specific culture and group of people.Our focus is on the African-American community … particularly in an inner-
city environment."
Chad Gobar, the community and outreach evangelism coordinator for Impact, said he thinks this organization is unlike other clubs on Liberty's campus.
"I've been on other outreach teams where we will meet one day a week and volunteer in the community, but what's different about Impact is that we meet throughout the week and develop a community of friends where we can mentor and guide one another," Gobar said.
Mosley encourages students that feel led to come and take on roles in the club.
"To be on leadership, our process is more of prayer than of votes," Mosley said. "Because our ministry is so Christ-centered, we don't want to be just another 'cool club.' We want to see that same fruit that we're pouring into a person being nourished by the gospel. Our leadership is composed of people that have been thoughtfully prepared and prayed for."
According to Mosley, apart from leadership positions, Impact is always welcoming new volunteers. The team meets at least every Monday in DeMoss Hall 1878, and those on leadership lead small groups.
"This year we want to be more intentional and more relational," Mosley said. "We especially want to get involved with freshmen and other students here on campus. We're going to focus spreading the gospel through campus events we have coming up, such as a movie night and a panel where students can come and ask questions, so we can pour our hearts out to the gospel."
According to Mosley, Impact has also created a freshman outreach plan where it will be hosting a number of events, such as Bible studies, prayer meetings and partnering with CampusSERVE for community outreach.
Impact will be hosting a documentary night Sept. 21 from 8-10:30 p.m. that will provide an opportunity to introduce what Impact is and discuss future events such as a Dialogue Night and a fall retreat for its Bible study, Mosley said.
"The gospel isn't here just to save people, but to disciple them," Gobar said. "The celebration doesn't stop after someone is saved, and that's why we're here."
To learn more about Impact Movement, contact chapter leader Macklyn Mosley at mdmosley@liberty.edu.