Professor celebrates 'Booked' launch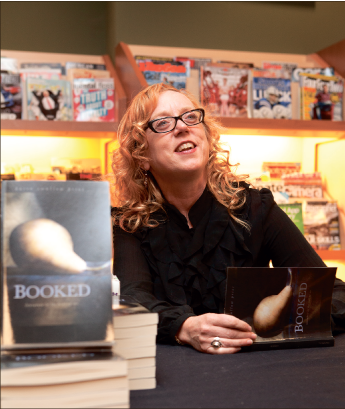 Students and faculty joined Karen Swallow Prior to support the release of her book at the Liberty Bookstore
Liberty University professor and author Karen Swallow Prior took the short moments before her book launch event Friday, Nov. 30 to pose for a few photographs. A cluster of freckles gathered at the top of her cheeks, highlighting her blue eyes as a bright light flashed off her sparkling teeth when she smiled a little nervously in front of the cameras.
Thus preoccupied, the author missed the entrance of former student Abby Alley.
Alley had traveled all the way from Indianapolis, Ind. to support Prior during the event that launched her memoir entitled "Booked: Literature in the Soul of Me." Prior had to take a few moments to dab her eyes after the surprise of finding Alley in the Liberty campus bookstore before she was able to continue with the event.
"For someone as special as Abby (Alley) was at that time," Prior said, pausing for a moment to take a deep breath, "for her to come back after all these years — and all that distance — it just touches my life more than I can imagine I ever impacted hers."
But according to Alley, her former teacher was one of the most influential people in her life. Along with English professors Carolyn Towles and Laurie Nutter, Prior took her under her wing and practically raised her during her time at Liberty.
"Other than my mother and my aunts, she's the one woman who's had the most influence on my life," Alley said. "She cultivated my love of literature, reading, writing. I wouldn't have missed this for the world."
Alley first came to Liberty as a nursing major, but her experience with Prior and her other English professors convinced her to switch majors.
"(The English program) was like a family," she said. "That's what I loved, and I still keep in touch. I don't think I would be where I am now without (having been) an English major."
"One of the great gifts of teaching is being able to influence students' lives in ways that are so far beyond what you imagined," Prior said. "You never really know how and who you will reach, and that's what really makes teaching the gift that keeps on giving."
A few minutes after the event started, the line to get a copy of "Booked" signed was so long that a few attendants decided to stand back and let the line die down or even grabbed a free slice of Domino's pizza while enjoying the soft strumming of a guitar.
Once the line was sufficiently short, Prior took a break to read an excerpt from her memoir. The reading came from the third chapter of her book, "God of the Awkward, Freckled and Strange," which is dedicated to the poet and Jesuit priest Gerard Manley Hopkins.
According to Prior, she had hated having freckles, and she was once teased at school for having "fish eyes" and large teeth. Looking through a clothes catalog one summer, she also realized she was a "Pretty Plus."
"My brother had always called me fat, but he was mean and stupid, so I had never believed him," Prior read. "… That was the year I started writing poetry."
Hopkins had a deep impact on her life, especially with his poem "Pied Beauty."
According to Prior, the work was "a celebration of the awkward things." Something pied is "patched or splotchy in color," and Hopkins went against tradition to equate such things with beauty.
At the end of the poem, Hopkins calls readers to praise God for the awkward things such as "the freckled" and "the big teeth." According to Prior, the poem reminds us of "a certain kind of beauty that arises only from imperfection — or pain."
For consultant Cheryl Smith, however, it was the fourth chapter of Prior's book that she found the most impactful. Prior actually mailed her a copy of the book, and she took it to read on the airplane and realized that she had finished half of it by the end of the flight.
"I'm not typically a fast reader, but I couldn't put it down," Smith said. "By the end of chapter four, I actually cried — it was so touching."
According to Smith, she introduced Prior to T.S. Poetry Press, the small New York publishing company that published "Booked." Although Prior has dubbed her book a "literary and spiritual memoir," Smith also said that it bridges the gap between the literary and not-so-literary people.
"It was still a brilliant read, even more compelling for someone who hasn't read many books," Smith said. "I've lived a mostly utilitarian life, without giving much thought to beauty found in great works of art or literature, poetry. Writers like Karen (Prior) give me a glimpse beyond the veil."