Simple faith in action: Megan Chapman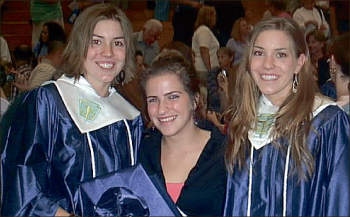 Alumna reflects on her conflict with the ACLU
Megan Chapman has seen enough of God's power and work through ordinary people like herself, to grow her faith and strengthen her resolve to serve him.
Ever since middle school, Chapman has been interested in religious freedom and political process, but five years ago, something happened to her that changed her dreams. This young girl from Russell County, Ky. stirred national attention when she stood up against the American Civil Liberty's Union (ACLU) to uphold her constitutional rights.
During her senior year of high school, Chapman was elected to be chaplain of her class. The most important part of her role as chaplain was to carry on the Russell County High School tradition of leading prayer at graduation.
As graduation approached, rumors began floating around that the ACLU was forbidding the graduation prayer that year. Chapman approached her school counselors, but they advised her to hold to her plans until something official was declared.
Friday morning, the day of Chapman's graduation, the official declaration was made in the form of a restraining order. The majority of the senior class met with Chapman and her twin sister Mandy and asked them to find a way to overcome the order and maintain the traditional graduation ceremony.
The girls set a plan in motion to hand out copies of the Lord's prayer so that when Chapman mounted the platform, the entire student body could publicly stand and make known their stance on religious freedom and trust in God.
"The fact that it was the ACLU just didn't bother me, I never thought it was a big deal because I had this (simple) faith of, The Lord's gonna take care of it, which is the truth," Chapman said.
About an hour before Chapman returned to her high school for the graduation ceremony, Mat Staver, dean of Liberty's School of Law called to go over the restraining order and tell her that it only restricted her prayer. Chapman could still legally speak or present her beliefs as long as she did not pray.
Up until she was standing in the middle of a stage, surrounded by her peers and their hundreds of guests, Chapman did not have a strategy for her speech. Chapman merely trusted in God and asked that she be used as his mouthpiece. Her request was granted. After the student body stood up and prayed in unison, Chapman began to speak.
"I told them about the gospel and told them what had been on my heart to tell them all through high school when I would see each friend make one more bad decision, take one step further away from God," she said.
Chapman's simple words and great faith stirred a response from the whole nation. She had interview requests from CNN and FOX News and received full scholarships to two universities. One of those universities was Liberty, the school where Chapman had known for a few years she should be, but had no money to attend.
Originally, Chapman planned on going to community college and teaching at an elementary school in her home town, but soon she found herself across the country studying business and economics, interning in Washington, D.C., and fulfilling a bigger purpose than she could have ever imagined.
"I like to make clear to people I was very weak. The only thing I had was faith when the graduation happened," Chapman said. "I just had faith in God and knew that he was powerful and he was bigger than me and bigger than the challenge."
Five years later, Chapman is a Liberty alumna plugging through her second semester at law school.
"God has provided so much more than I have ever expected for myself or even tried to achieve and I'm so thankful for it and God's dreams are so much bigger than ours," Chapman said. "He has visions for us, as we seek him he will fulfill them."
Chapman's vision for the future is to create a facility that educates the masses on American law and government according to the Constitution and its founding principles.
"I just want to start an institution that educates common everyday people on the law, the government, America's structure and how it works so they can make educated decisions when they vote for people, and they can protect their rights and themselves," Chapman said.
Chapman attributes the enormity of the American government and its strangling, infringing power on its citizens to a lack of political education for the common man.
"I'm a very simple person, and I just want to educate other people who are simple like myself and don't have time to go to law school about the law," Chapman said.