Rebuilding Together Lynchburg brings hope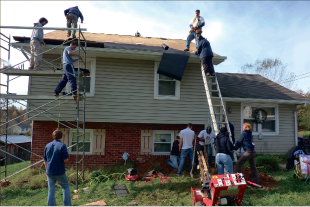 On ABC's Extreme Makeover: Home Edition, Ty Pennington takes his crew into the homes of families across America and rebuilds them from the ground up.
Each family has its own story and reason for being chosen for the show. Although Rebuilding Together Lynchburg (RTL) does not have the budget Ty Pennington does, they strive to make a difference in the community by assisting low-income families with home repairs.
Rebuilding Together is a nonprofit organization with more than 200 national affiliates, including RTL, which is in its 10th year, according to its website.
RTL works to help those in need, particularly the elderly and disabled, remain in a safe environment.
The organization receives funds from various outlets such as grants, sponsors and local businesses. In the past 12 months, they have helped revitalize 82 homes in the Lynchburg area.
Executive director of RTL, Sandy Walton, has been with the organization for five years. Walton came to Lynchburg from Birmingham, Ala., and previously volunteered with a Rebuilding Together affiliate there.
"When we lived in Birmingham, I volunteered there," Walton said. "When we moved here, I went looking for the group."
Walton helps find families in the community who could benefit from receiving aid from RTL.
"Our mission is to help our low-income neighbors," Walton said. "These are low-income neighbors who have some kind of rehab work that is needed on their home."
Some examples of rehab work that RTL performs would be repairing leaky faucets, various electrical items and plumbing needs.
RTL will also do home modifications, such as building a ramp and widening doorways for wheelchair bound residents. All rehab work and modifications are free.
Liberty and Thomas Road Baptist Church (TRBC) have formed a partnership with RTL, according to Darren Wu, Christian/Community Service Coordinator.
"Essentially, it's a partnership between Rebuilding Together Lynchburg, Thomas Road, who provides Harry Sowers with the oversight and technical expertise and then Liberty students who provide the up and down lifting and actual work and service," Wu said.
Harry Sowers has served as the head of the TRBC Home Repair Group since 2008 and works directly with volunteers, including Liberty students. Sowers has been retired for almost 10 years and moved to Lynchburg in 2006.
"I was a chemical engineer," Sowers said. "So I knew about computers and spreadsheets."
Sowers, as well as others involved with RTL, recently came up with a more structured way of doing things.
During the week, RTL has a core group of volunteers. On the last two Saturdays of every month, there is an open volunteer system where people can come to help that may not have time during the week. This new structure began in September 2010.
"The first time I did this, I expected seven or eight people," Sowers said. "I had 18."
On the following Saturday, Sowers had 28 people showed up to volunteer. That weekend, they completed a roof and painted two houses.
Lynchburg College and Liberty students are among the volunteers that Sowers works with. Liberty students have the opportunity to gain CSER credit when volunteering with RTL.
Sowers said many students go beyond the 20 hours required.
"What I found was that I had people from Liberty that were just showing up, which is fantastic," Sowers said. "People show up week after week. Megan Kinne showed up for a number of paint jobs."
For sophomore Megan Kinne, helping others has always been rewarding.
"I like helping people in need in the community and just being an outreach," Kinne said. "I always enjoyed helping others less fortunate than me and maybe bringing a little joy to someone's life when things just seem to be going wrong."
While volunteering with RTL, Kinne helped put on a new roof, paint and do landscaping.
"It is well worth it," Kinne said. "You get to help others in need. You accomplish something and just the joy that you helped someone and just showed them the tiniest light of God is well worth it in itself."
Volunteers can help with short and long term projects. The bulk of the rebuilding work begins in March.
For more information on RTL, visit rebuildinglynchburg.org. If interested in volunteering with RTL, stop by the Christian/Community Service Office in Religion Hall 101. Email them at cser@liberty.edu or contact Harry Sowers at hsowers@aol.com.