Homecoming: Bonfire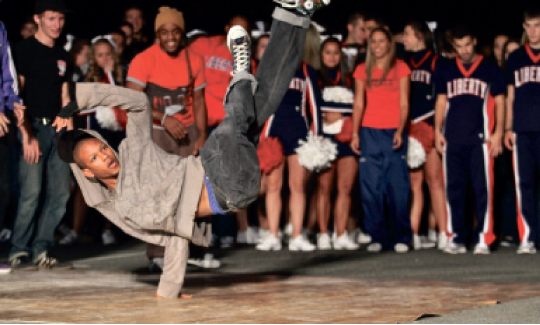 Student Activities hosted its annual homecoming bonfire Oct. 8, bringing students and alumni together to kick off homecoming weekend.
People gathered in the parking lot of Thomas Road Baptist Church Friday night to join in the celebration, roasting marshmallows and making s'mores courtesy of Student Activities. The night commenced with a performance by the Alpha Delta Omega sisterhood. According to Alpha Delta Omega's representative Courtney McGill, they are a woman's ministry step team that travels around the community to share the gospel.
"We're actually very excited about performing," McGill said. "This is our first time actually performing on campus."
The performance was then followed by the Peacemakers Crew's extensive performance. The performances got the crowd so active that 1990 Liberty alumnus Cooper Taylor went out to join the performers.
A few Liberty favorites, including the Spirit of the Mountain's drumline and Liberty's cheerleading squad, added to the excitement with performances that continued to keep the crowd energized and entertained.
After Liberty's football team's head coach Danny Rocco and the Flames' football team made their way onto the stage, the celebration for the next day's homecoming football game began with Rocco lighting the enormous bonfire.
Giraldo is a feature reporter.