Serving through football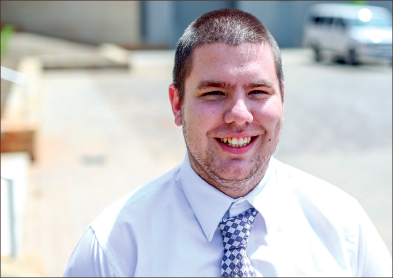 Award recognizes student's high achievements in Christian/Community service
Every year, Liberty University Christian/Community Service (CSER) student volunteers have the opportunity to be honored for their work through the Christian Community Service Volunteer of the Year Award. This year, Liberty senior Samuel Morrison was the recipient of the award.
"It took me by surprise," Morrison said about receiving the award. "The first thing I (felt) was humbled, because I'm sure there are many people that worked more hours than me, you know, (and) did better things and had more of an impact. So I was just humbled that I even won something that only one student wins at the school."
According to Morrison, he found out he had received the award through a phone call Monday, April 14. He was asked to attend Convocation on Friday in order to be presented with the award in front of the whole student body. Morrison admitted that before he received the phone call, he did not know anything about the award.
"After I won (the award), I went online and looked at the CSER website (to read about the award)," Morrison said. "I read a little bit about (the award) and past winners (as well)."
According to the CSER website, the Volunteer of the Year Award is presented annually to a student, nominated by his or her supervisor, who demonstrates excellence in Christian service and ministry.
Morrison volunteers at E.C. Glass as the defensive coordinator for the freshman football team. His duties include filming varsity games, uploading them to an online scouting program, meeting with players two to three times a week during the offseason, attending coaches' clinics around the state and supervising the student athletes at the library for study hall. According to his CSER supervisor Tim Peterson, Morrison volunteered more than 300 hours each fall semester and 125 hours each spring semester since he started in the fall of 2012 for a total of more than 850 CSER hours.
"While fulfilling these duties, he was always willing to listen, learn and make himself and those around him better," Peterson wrote in his nomination of Morrison. "I witnessed firsthand his exponential growth over the last two years. He was a role model for the younger players, as they were always aware of his hard work, dedication and leadership. Sam never wore his Christianity on his sleeve, which would be hard to do in a public school system these days, but they were always evident in his actions, attitude and personality. Sam was always more than eager to share his religious beliefs when players, students or coaches asked him."
In high school, Morrison played football as a center, but when he graduated, he decided he was finished with football and began focusing more on his schoolwork. However, after his freshman year at Liberty, Morrison said he decided to volunteer as the assistant quarterbacks' coach in 2012 because he missed playing football so much. This decision eventually helped Morrison discover the career path he wanted to take.
"As time (has gone) on, I've noticed that I really enjoy being around the kids every day and (it is) just an (incredible) opportunity to get to hang out with them," Morrison said. "I realized that, eventually, I want to be a teacher and a football coach."
Peterson said Morrison has left a lasting impact on the high school students he came in contact with during his CSER.
"Sam is an intelligent, motivated and Christ-driven young man," Peterson wrote. "When you couple those traits with the quality education and reinforced Christian morals he has received at LU, the sky is the limit. I don't know when, where or how he will impact the next generation in the future, but I definitely know he has impacted many inner-city student athletes at E.C. Glass High School."