SA offers new Loyalty Program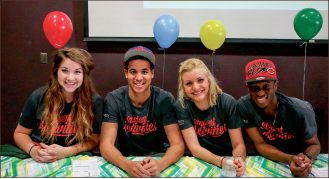 Student Activities now offers free prizes for those participating in sponsored events
Free prizes. That's what Student Activities (SA) began offering students through their new Loyalty Program in the 2014 spring semester.
The Loyalty Program provides students with a loyalty card that gets stamped at SA events and can be turned in at the SA office in exchange for free prizes, according to the SA website.
"We decided to create this program because we recognized a lot of the same people at our events," SA Event Supervisor Elizabeth Karr said. "We thought the loyalty program would be a great way to thank them for their support and to keep them coming back."
Karr said loyalty cards can be received and stamped at every SA event at the promotion table.
Students must attend 10 events to fill the loyalty card, according to the SA website.
"I think it (will) bring more people to come to student activities, especially if it's giving away free prizes," senior Chelsi Murray said. "Students always like free things."
Resident Advisor Hannah Solem said she is excited to introduce the program to the girls on her hall.
"We really encourage girls to go (to SA events)," Solem said. "You can grab a group of friends and go off to an activity, and for them to get prizes—that's a great idea."
Karr said there is no limit to how many cards can be filled out per student, and the program restarts every semester.
"Once you finish one card, you can go ahead and grab another," Karr said. "We have exclusive (SA) promotional items for people who have 10 punches on their card."
She said students can win prizes such as a ceramic tumbler mug or a large gym bag with the Liberty logo on it.
"The cards are free, they're easy, and you can win exclusive items just for being loyal to our events," Karr said.
According to the SA website, the loyalty program is "just one more way to say a very special thank you" to their supporters.
"I think it's really good, especially for freshmen coming in," Solem said. "It gets them involved in school right away, …(and) it's a great way for them to make friends."
Karr said students have responded very well to the Loyalty Program.
"It's an opportunity for them to get awesome prizes for coming to awesome events," Karr said. "Who wouldn't love that?"
SA creates more than 80 events for free or at discounted prices throughout the school year, according to its website. Events include concerts, movies, trail races, trips and more.
For more information about the Loyalty Program and SA events, call the SA office at 434-592-3061 or email studentactivitiesinfo@liberty.edu.