DIGI students represent Sony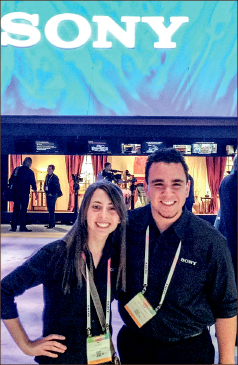 Covering an expanse equivalent to the size of 35 football fields, more than 93,000 employees of major companies in the broadcast world from all 50 states attended the National Association of Broadcasters (NAB) Show in Las Vegas, among them a Liberty professor and two Liberty students.
Sam Farnsworth and Jerusha O'Dell, communications majors at Liberty, represented Sony on the floor of the NAB show.
"I helped inform people as they came to the Sony booth and asked questions about our products," Farnsworth said.
According to O'Dell, the students learned much from the experience.
"We got thrown onto the floor with only a few hours to memorize as much information about a product as possible," O'Dell said. "So I learned all about what Sony has to offer as well as what everyone else is offering."
The NAB show gave students the opportunity to network with some of the big names in broadcasting. Among the companies attending the event were Gannett Broadcasting, BBC World News, ESPN and CNN, according to the NAB website.
"I learned more about networking and just the emphasis on how important it is," O'Dell said. "I knew it before, but it was reinforced from this trip."
Farnsworth emphasized the importance of interacting with fellow colleagues and business people.
"Network, network, network," Farnsworth said. "This business is all about who you know."
Dr. Carey Martin, Digital Media & Communication Arts professor at Liberty, also attended the event, but not to represent Sony. Martin spoke for the Broadcast Education Association, an organization he has been a part of since 1997.
Martin spoke in two panels, one being the importance of content versus technology in production instruction.
"I played devil's advocate, because this was set up by our writing interest group, and I said technology is always more important," Martin said. "As a writer myself, I was taking that more as an intellectual position, not necessarily what I am emotionally connected to."
The other panel Martin participated in discussed civility and violence in the classroom. When Martin was not participating in the panels, he had the opportunity to visit other panels and take part in the NAB display floor.
"(The convention) is crammed with technology," Martin said. "I confess I only got to see a small part of that, but I got to see a good part."
Like O'Dell and Farnsworth, Martin had the opportunity to network.
"As with any convention, there is a lot of informal networking where you catch up with old friends and make new ones, and that was very fruitful this year," Martin said.
Martin even reconnected with one of his students whom he first met when he was a graduate assistant at Florida State University.
"It was very gratifying to me," Martin said. "I am very grateful to Liberty University that they support (us) faculty in being part of such a great conference and a great organization."
Farnsworth said anyone interested in the broadcasting field should attend the event.
"When I say that everyone in this business is there, literally everyone in this business is there," Farnsworth said. "If they are in the media or technology field, we met them."
For more information about Liberty's School of Communication & Creative Arts, visit liberty.edu/academics/
communications/.