Obama: Better at pop-culture or politics?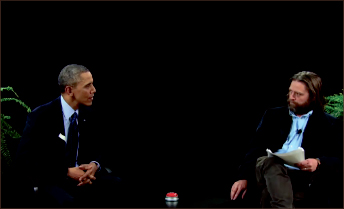 Appearing on Galifianakis' comedy show was an attempt by the president to boost Obamacare's popularity
President Barack Obama recently joined Zach Galifianakis for an interview on his popular Internet show "Between Two Ferns." Obama's participation in the six-minute comedy show elicited mixed opinions from viewers, according to a Fox News article by Howard Kurtz.
"He wasn't funny … I have to say, this video was a turkey," Kurtz wrote.
Others at Fox thought the video was "wildly inappropriate," according to Kurtz's article.
I see nothing wrong with the president taking a little time for a comedic gig. I am certainly not a huge fan of Galifianakis' painfully awkward interviews, but the video was worth a chuckle.
On the show, the two men engaged in clever repartee, with Galifianakis notably saying to Obama, "It must kind of stink, though, that you can't run, you know, three times."
Obama replied that not being able to run again is a good thing.
"If I ran a third time, it'd be sort of like doing a third 'Hangover' movie. Didn't really work out very well, did it?" Obama replied.
Of course, Obama did have ulterior motives for the discussion.
It appears that the president did the interview in order to put in a plug for his ever-newsworthy health care bill, the Affordable Care Act, also known as Obamacare. The goal was to help the bill gain greater popularity with younger generations, and what a better way to achieve that end than through humor?
"The president subjected himself to the awkwardness to reach, yes, younger people with a 'plug' for Obamacare," Kurtz wrote.
When Obama brought up health care, Galifianakis acted exasperated and bored for the duration of Obama's self-promotion.
"Oh yeah, I heard about that. That's the thing that doesn't work," Galifianakis said.
Here we have an interesting situation. Some people might complain that presidents should avoid such public displays of frivolity, and perhaps they are right. But I cannot blame Obama for trying to garner greater support for his bill. It would be foolish of him to not market his own product.
Do not get me wrong — I have no love for the health care law and no desire for its implementation. But Obama or his press agents have consistently done an exceptional job of using various media outlets to propagate his message to a receptive audience.
Apparently, the video was somewhat successful.
"White House officials say it was the number one source of referrals to the health care site Tuesday," Kurtz's article said.
While I take no issue with his appearance on "Between Two Ferns," I think that Obama and any other president should be careful to avoid coming across as too facetious. There is a risk that he might seem lackadaisical toward the responsibilities of his office.
"Obama often seems more comfortable as a pop-culture president than one who muscles legislation through the Hill," Kurtz wrote.
I partially agree. The president fits in well with Hollywood and other media moguls. They all seem to love him, and he benefits from their support.
Yes, Obama does often balk when it comes to international issues — take Syria and Russia — but he irritatingly exerted muscle to force through his Affordable Care Act.
Still, as Kurtz wryly concludes in his article, "It's good for a president to show his lighter side. Maybe he's eyeing his next career."