Fear 2 Freedom fights
Students assemble 250 kits for abuse victims at Celebration Night
As faint pinks and purples lingered in the sky Thursday night, an ambulance sat outside the Schilling Center, tightly filled with teal, orange and purple bags and boxes packed just minutes before by students as a part of Liberty University's first Celebration Night March 20.
During the event, which was the result of a partnership between Liberty and nonprofit organization Fear 2 Freedom (F2F), more than 200 Liberty students filled 250 of the colorful bags and boxes that will be given to victims of sexual assault, child abuse and domestic violence at Lynchburg General Hospital, F2F Executive Director Emily Butler said. The number of kits assembled was determined by the number of victims helped last year at the facility.
According to F2F Founder and President Rosemary Trible, who shared her testimony of the hope she found in God after being raped, the kits are part of the way her organization works to bring hope and healing to abuse victims.
"F2F kits are a tangible way to help victims of abuse as well as a way to meet the need within many hospitals and after-care homes," the F2F website states.
Each kit includes items such as basic toiletries and clothing. Trible said the women and children who are at the hospital as a result of assault often do not have toiletries needed to take showers or clothes to leave the hospital with, as theirs are often kept for evidence. Additionally, each kit has a personal, hand-written note and teddy bear in it.
Throughout the night, students were personally responsible for packing their bags or boxes. To assemble their kits, attendees filled the colorful bags and boxes based on whether the kit was being made for a woman or child. After checking off each item from the checklists they received, students also wrote notes of encouragement to include in the kits.
As freshman Tim Chalmers wrote his note, he said he realized how big of an impact the kits can make on abuse victims.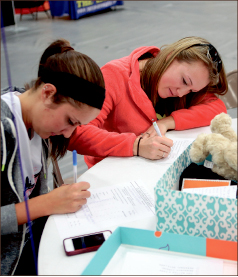 "I have a best friend who was sexually molested a few years ago, and … just her telling me her story and how she got through has kind of given me inspiration," Chalmers said. "… (This event is) just showing (victims) that people actually care about them."
Freshman Kathleen Lopp also recognized the significance of Celebration Night and its potential effects.
"I have a few friends that have gone through similar things, and I just really have a heart and a passion for women (and children) that have gone through this," Lopp said. "… And for me, to be able to communicate the love of other people and even the love of God, (the event was) such a great opportunity to be able to come and do that just through something as simple as a little bag and a teddy bear."
After all 250 kits were assembled, the bags and boxes were quickly loaded into the ambulance. Students then gathered around the full vehicle and held lit candles, observing two minutes of silence to symbolize the fact that someone is sexually abused every two minutes in America, according to Butler. Trible finished the night by praying over the kits and the victims that would be receiving them before stepping into the passenger seat to accompany the kits to Lynchburg General.
Although this was only the first Celebration Night at Liberty, Trible expressed hope and confidence in the idea of it becoming an annual event. Trible said she believes college-aged people are the ones who can make a real difference.
"I think this generation is more service-oriented than any I know," Trible said. "I feel like it's the university students, if we can start changing the culture now, then we can stop this and begin to have more and more freedom."
Trible and Butler both talked about generating interest in starting a F2F student club at Liberty in the next year as well.
Lew Weider, the director of the Center for Christian/Community Service who helped to orchestrate Celebration Night, said he believed the event exceeded expectations and will make a lasting impact on the Lynchburg community.
"Part of (Liberty's) mission is obviously to meet the needs of those who are suffering, those who have gone through trauma, those who just need a sense of hope (and) encouragement," Weider said. "…
(W)e wanted to do (the event), because it's a project for Lynchburg to help Lynchburg residents and the surrounding area, and we can meet a specific need in a person's life. "
For more information about F2F, email getinvolved@fear2freedom.org or visit fear2freedom.org.