Center4ME celebrates prayer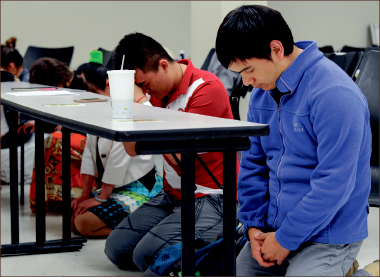 Event highlights global worship, emphasizes value of intercession worldwide
Liberty students accepted the Center for Multicultural Enrichment's (Center4ME) dare to pray for the nations Thursday, March 20, at 7 p.m. in Green Hall. Students representing each continent were invited to worship in their native language and share prayer requests for different countries within their continent.
"My experience here was that the Holy Spirit was just here, and he was living, he was around," junior Micah Green said. "He was making a difference in our hearts. He has stirred some hearts here, and he's stirring the hearts of the nations."
Students began the night by worshipping in English and praying for North America. Former U.S. soldier Thomas Gonzales shared about the importance of praying for the military.
"How many countries are visited by the military before (being visited by) Christians?" Gonzales asked. "We also need to pray for the people whose countries we go to."
African student representative Nkechi Ilo shared that more than 50 percent of people in Nigeria are Muslim.
"Even your enemies, it's good for you to pray for them," Ilo said.
The Spanish praise team at Thomas Road Baptist Church led worship for the South American segment of prayer.
"The worship really touched my heart tonight and all the different languages," freshman Christy Gwartney said. "God, he knows what everyone's saying. Although I might not understand it, it's really cool."
Asia representative Grace Yasa Guo talked about the churches in the pubic eye as well as underground churches in China. She said the underground church is facing persecution, but the church is growing, and God is still moving.
"God is doing amazing things through the difficulties," Guo said.
Joy Jefferson, associate director of the Center4ME, said Dare to Pray is a ministry run by Daveta Saunders that encourages people to pray for issues in the United States.
"I am thankful that, like tonight, I can worship God in freedom," Jefferson said.
Saunders spoke to the students and emphasized that prayer changes things. She encouraged students saying, "God still speaks to his people." Saunders said she believes God moved in the other countries that night because of their prayers.
Gwartney said she left the prayer meeting very inspired.
"Praying is one way that any college student, even if you can't afford to go to other nations … can impact the world," Gwartney said.
Green encouraged students to stand up for and share their beliefs with others.
"You can make a difference with the gospel of Christ," Green said. "This is something that cannot be taken lightly."
Green also said every Christian is called to be a missionary, whether it is to a foreign country or a neighbor.
"We're called to preach the gospel and make disciples," Green said. "That's one (of the) thing(s) us believers have the command to do."
Jefferson said she thinks the prayer meeting was a success and that she would love to have more prayer meetings in the future.
"I think it's just awesome … I really enjoy praying with other students," Jefferson said. "I would definitely encourage (them) to pray to God about their community as well as countries around the world."
The Center4ME strives to help students learn and understand different cultures through international events such as Dare to Pray, according to their Web page.
For more information about events, visit liberty.edu/center4me.