Artists collaborate at HeARTbeat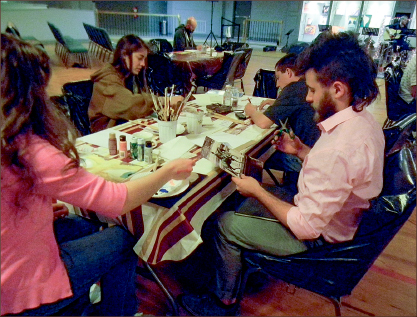 Revival Scene Community Church holds event created by Meredyth Mason to encourage creativity in church
Groups of experienced and beginning artists joined together to hear local musicians, talk with art vendors and paint at the Revival Scene Community Church's event, HeARTbeat.
Meredyth Mason, Liberty junior and the creator of the event, reached out to members of the church, Liberty students and artists all around Lynchburg to promote HeARTbeat, which took place Saturday, March 22.
"The Lord gave me a vision to provide a place for creativity," Mason said. "There are so many talented people around me, and I just wanted to bless them with a place of freedom."
Mason explained that, with the help of the Revival Scene Community Church, her vision became translated into the HeARTbeat event. The same event was hosted last semester, and Mason said she hopes that it can continue to occur once every semester and possibly during the summer.
"We hope to find another venue in the future that would encourage more of an open turnout for anyone from town," Mason said. "It (was) open to the public, and we advertised all over town, so we want to do that more."
According to Mason, the purpose of the HeARTbeat event and those like it are to encourage Christians to grow in their skills and be encouraged that their artwork is not less important just because it is Christian.
"We never have to feel like we are mediocre or second-best because we are Christian," Mason said. "It's kind of like a Jerry Falwell moment of, 'If it's Christian, it ought to be better.'"
According to Mason, HeARTbeat was not just for the artists looking to grow in their skill and seek God with their art. She also wanted the event to provide experienced artists with the opportunity to show and sell their work to the public.
Senior Ashley Dunne set up a table to feature some of her hand-drawn and stamped stationary that she was selling.
"It's really hard to break into the art field, so anytime I can get my stuff out there, it's a blessing," Dunne said.
Dunne explained that she has been involved with HeARTbeat since the beginning stages and is eager to watch it continue to grow.
"If (Meredyth) keeps going with it, I think it will get bigger," Dunne said. "I think it's a good beginning."
According to Mason, following the HeARTbeat event, the church hopes to re-launch Collision Arts Dance Ministry. She said she discovered dance as a form of worship and hoped to share it with others.
"The dance ministry is if you want to be a dancer, but you've never had dance experience," Mason said. "We have a lot of those in the church, and they just really want to worship with it and feel confident about it."
According to Mason, the dance group will be Saturday nights and is open to men and women. More information about the ministry formed through the Revival Scene Community Church can be found on the Collision ARTS Facebook page.