Teams conquer quest
Hill City Hunt encourages team building and friendship
Students gathered at the Tilley Student Center Saturday, Feb. 1 to participate in the fifth annual Hill City Hunt hosted by Student Activities (SA).
Every year, the hunt allows students the opportunity to explore the sites around Lynchburg, ranging from Ivy Lake to Camp Hydaway, according to sophomore and SA volunteer Jasmine Bonner.
"It's good for students to get to know Lynchburg and get off campus and see what Lynchburg has to offer," Bonner said.
When students arrived at the Tilley Student Center to register, they were asked to organize teams of four to participate in the hunt. Those who did not have teammates were also formed into four-person groups. According to freshman Leah Howard, she most enjoyed getting to meet new people by becoming part of a team on the day of the event.
"I guess (my favorite part was) breaking out of my comfort zone," Howard said. "I got coerced into it, because another team needed another person."
Although Bonner has never participated in a Hill City Hunt herself, she has been a volunteer with SA at the hunt for two years.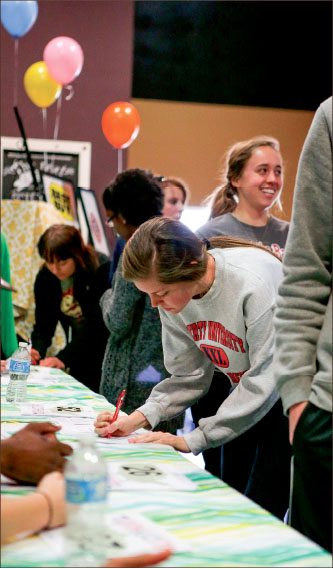 "It is fun to see transfer students and people who don't have a lot of friends just click with certain groups," Bonner said.
Before the hunt started, rules about staying with the group, getting back on time and following all of the instructions on provided pamphlets were read.
The pamphlets contained a variety of riddles, which were divided into "challenges" and "quests" categories, for the participants to decipher. The challenges revealed locations where students either had to take a picture and post it on Instagram or meet an SA volunteer to complete the challenges. The quests consisted of questions that teams could answer via text message and activities to be completed at each location.
Howard said her favorite challenge took place at Monument Terrace, where teams had to take a picture in front of the stairs. Even though the stairs were blocked off because of snow and ice, it did not stop Howard from having a good time.
"The stairs were pretty rad," Howard said. "I felt so tiny next to them."
Howard's teammate Doug Thompson also enjoyed the challenge at the terrace.
"It was a bummer we couldn't go upstairs, but then we would have been late (arriving back at the Tilley Student Center)," Thompson said.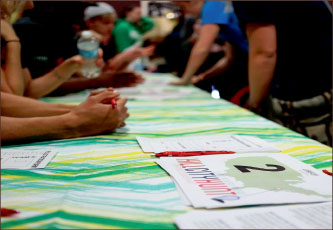 Teams were given from 2-3:30 p.m. to complete as many challenges as they could. All teams who arrived late were disqualified.
Prizes were distributed after SA was able to evaluate the points each team earned. Students that were members of the teams that came in first, second and third places, received gift cards adding up to $200, $100 and $50 respectively. According to Bonner, the gift cards were from Target, Best Buy, Chipotle, Cinema 14 and Panera Bread.
To find out more about upcoming events hosted by SA, visit liberty.edu/sa.