Globally focused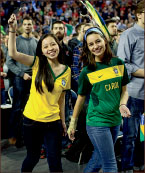 CGE events highlight cross-cultural needs
Students were challenged to engage the world as Liberty University's Center for Global Engagement (CGE) hosted Global Focus Week (GFW) Feb. 10-14.
According to CGE, the week-long conference is aimed at raising global awareness among students and offers the opportunity for students, faculty and staff to hear from influential speakers and to connect with cross-cultural workers from around the globe.
This year, CGE hosted 60 organizations with more than 150 representatives involved in a diverse number of international businesses and projects.
Coordinator of Special Projects for the CGE, whose name is withheld for security reasons, is enthusiastic about the impact that the week had on students.
"(GFW) is a vital part of what we do in the (CGE)," she said. "This is the time each semester when we open up our campus to representatives from organizations who work all over the world, doing every type of work imaginable. Through this week, every Liberty student on campus, no matter their interest or passions, has access to opportunities that can help them take their degree global."
Students heard from Dr. Samuel Thomas, president of Hopegivers International, Monday, Feb. 10. In his Convocation message, Thomas encouraged students to become internationally minded and to develop a heart for the last, the lost and the least.
Students were prompted with this message throughout the week as they participated in global breakout sessions — such as Take Sports Outreach Global, Take Social Justice and Humanitarian Work Global and Take Medical Work Global — and individual organization meet and greets. Interactive cultural events such as Experience Philippines highlighted exposure to different cultures and gave students a glimpse of life overseas.
Senior Brandon Pitzen was involved with several of the events throughout the week.
"I really enjoyed participating in Experience Philippines," Pitzen said. "There was a lot of good student interaction. You could tell students were genuinely interested in the Filipino culture and lifestyle."
In addition to the week's special events, Pitzen also spent time speaking with representatives from different organizations.
"They were all super friendly and very interested in getting students involved overseas," Pitzen said. "They were outgoing and willing to help you even if you weren't looking to necessarily work full time with their organization. It was awesome to see representatives working with each other to point students in the right direction, regardless of which organization the student decided to go with — they were all like family."
According to Pitzen, GFW is a time that students look forward to each semester.
"I spoke to a lot of students before GFW who were definitely pumped," Pitzen said. "This week gets students interested in taking their degree global. They see all the different organizations that they can partner with to utilize their skill set on a global stage."
Due to inclement weather and university closings, many of the week's events were either canceled or postponed.
"Even though the snow caused us to end this spring's (GFW) two days early, we received a lot of great feedback from representatives and students," CGE Coordinator of Special Projects said. "Some of the events were cut short, but based on what we've heard, some important conversations happened and connections were made that can really help launch those students into ongoing lifestyles of global engagement."
As a part of GFW, CGE, Campus Church and WorldHelp will still present Engage Syria Wednesday, Feb. 19 from 9-11 p.m. in Thomas Road Baptist Church. For more information on Engage Syria, visit liberty.edu/globalfocusweek. To find out more about the Global Studies department, email globalstudies@liberty.edu.