Scouts attend 'Cookie College'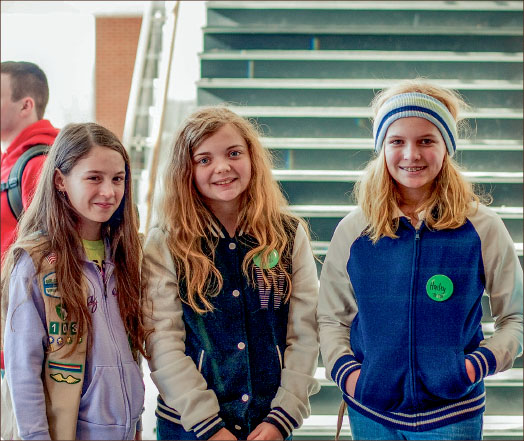 Local troops experience the new library, dining hall and a basketball game during visit
Enthusiastic songs and smiling faces greeted Liberty University Saturday, Jan. 18 as 80 Girls Scouts from across Virginia arrived on campus to experience a traditional workshop in a new way­ — "Cookie College."
The mission of the day was to teach the girls how to sell their cookies, whether door to door, or in an office, according to Ryan Kindt, the director of ticket sales at Liberty. But before the workshops began, the Girl Scout troops were able to explore parts of campus through a tour provided by Liberty's Welcome Center.
"It's awesome," Haley Burks of Troop 103 said. "The library is my favorite."
After the tour, the girls participated in "Cookie College." According to Jessie Dawson, program manager of Southeast Virginia's Girl Scouts of Virginia Skyline Council, "Cookie College" is composed of workshops designed to teach the girls about budgeting and setting goals, as well as the proper conduct when selling the cookies.
"The Cookie Program teaches them five leadership skills," Dawson said. "Goal setting, money management, people skills, business ethics and decision making."
The first station was set up to show the girls how a cookie booth outside of a store would look. They also participated in icebreaker activities and learned how promotion in a cookie costume works.
As the troops moved to station two, they engaged in an active question-and-answer time about why they sell cookies and some of the important things to do when interacting with a customer. They also learned about allergies and knowing what the main ingredients in the cookies are, an activity that allowed the scouts to taste the cookies.
Station three was called "Getting to know the customer" and involved two of the camp leaders acting out various skits that demonstrated the proper way to approach a customer when selling door to door.
Once "Cookie College" came to an end, the girls and their chaperones enjoyed a meal at the dining hall and attended Liberty's White Out basketball game against High Point University.
According to Kindt, this was the first time that Liberty and the Girl Scout organization had teamed up for an event like this.
"(Liberty) really wanted to do something with them," Kindt said. "Normally this is just something they have to do in a classroom, and we wanted to make it more fun."
According to Dawson, "Cookie College" day was a good opportunity to allow the girls to experience what the campus has to offer, as well as being able to network with Liberty.
But throughout the day, the core of the Girl Scout's learning experience remained their mission: "Girl Scouts builds girls of courage, confidence and character, who make the world a better place."