CFAW Game Night draws crowd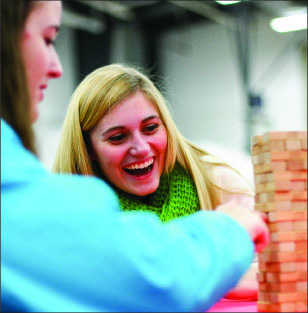 Guests and students were invited to enjoy laser tag, prizes, food, a photo booth and other activities
During each fall and spring semester, high school students from all over the country come to Liberty University to attend College for a Weekend (CFAW). During CFAW, guests attend classes, Convocation, various sporting events and other activities.
As a part of CFAW, Liberty's Student Activities (SA) hosted Game Night in the Schilling Center for guests and current Liberty students Friday, Nov. 8.
At Game Night, SA provided laser tag, video games, a photo booth, prizes, snacks and various other activities for those who attended the event to enjoy.
Rebecca Oliver, a high school student from Ohio, was a CFAW guest who went to Game Night.
"I have never been to Liberty before, and I am extremely impressed with all the activities offered to students on a weekly basis," Rebecca Oliver said. "I think it is great that there is a department specifically at this school that hosts events geared toward students having fun."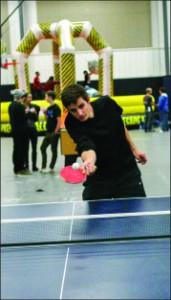 Rebecca Oliver's mom Sandra Oliver decided to take her daughter to visit Liberty because she heard from one of her best friends that Liberty offers a vast array of recreational activities.
"I want to send my daughter to a school where she can have fun in the midst of her studies," Sandra Oliver said. "After attending this event with her and seeing students and guests having so much fun together, we have decided that this will be the place for her."
Although the event was geared toward CFAW guests, according to SA employees, current Liberty students were also invited to Game Night.
Hannah Jones, a senior engineering major, attended the event with her CFAW guest Sarah Thompson in order to show Thompson the best of Liberty.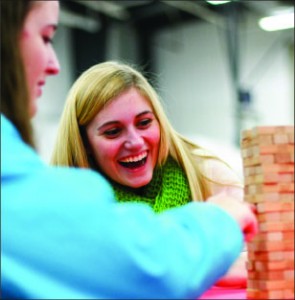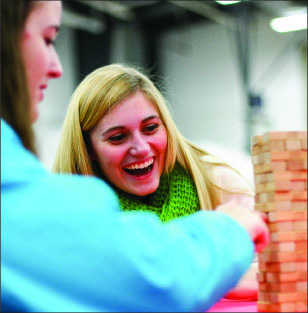 "I wanted to show (her) all the fun activities offered to Liberty students," Jones said. "There are so many fun things offered here to students, and I think that it is easy to forget that as a student. Having a CFAW guest stay with me this weekend has reminded me that this school really is so wonderful."
This was Sarah Thompson's second time visiting Liberty as a CFAW guest, and she has decided that she wants to attend Liberty after she graduates from high school in May.
"Every time I visit Liberty, I am always overwhelmed by everybody's kindness and the amount of activities that are offered to students," Thompson said. "I cannot wait to be a student next fall and be able to attend these game nights with my dorm."
Liberty invites guests to visit four times a year for CFAW, with the next CFAW beginning Feb. 20, 2014.