SGA holds elections
Students vote to select their future class presidents and vice presidents
Liberty University held elections Sept. 6 to decide the Student Government Association (SGA) presidents and vice presidents of each class in preparation for the coming
academic year.
Campaigning officially began Sept. 2 and lasted the remainder of the week until 4:30 p.m., Sept. 6, with electioneering in full swing in DeMoss Hall.
Danielle Ferrario, the recently elected senior class president, is pursuing a degree in communications with a concentration in advertising and public relations.
"I had never really been involved in student government before last year, and I ended up going to a Senate meeting on behalf of a club I was a part of at the time and thought that the SGA was awesome," Ferrario said.
According to Ferrario, her choice to run for office stemmed from previous involvement in SGA.
"I wanted to join last year, so I had applied to be an at-large senator and worked for the Speaker of the Senate, and that got me more involved," Ferrario said.
She explained that following a time of prayer and decision, she made the choice to run for senior class president over the summer for the coming
school year.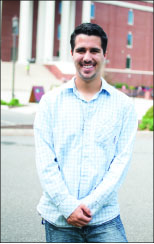 "I just want to serve the senior class, to have open communication with them and be a representative for them," Ferrario said. "I want to find things that will not only benefit seniors now, but the future generation of Liberty students to come as well."
Rekhail Sharp, a senior studying western legal traditions, was elected as the senior class vice president as a running mate for Ferrario for the 2013-2014 school year.
"During my attempt to be student body vice president last year, I realized that I am a people person," Sharp said. "I like to serve. Danielle approached me about running with her as vice president for the senior class, and while I was initially hesitant after she approached me, I realized I still wanted to make a difference."
According to Sharp, her desire to run was a result of her wanting to serve others.
"My main concern is about the spirituality of the senior class as a whole," Sharp said. "I want to have a foot-washing ceremony, which would allow us to bless each other before we go out into the world."
Chelsea Andrews, the newly elected junior class president, said she is no stranger to SGA or to being a class president. Andrews is studying government with a concentration in politics and policy and a minor in psychology.
"This is my third year being involved in SGA with my experience in being the freshman class president, and then last year I was the policy chair for the Senate," Andrews said.
According to Andrews, her choice to run for office was the result of her desire to serve.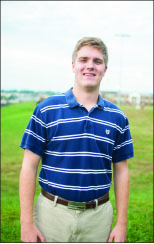 "I felt as though junior class president would provide me with a great platform to further humanitarian issues I'm passionate about, such as human trafficking and the pro-life cause, by educating the student body and providing them with venues to act in response," Andrews said.
Andrews explained that since she ran unopposed for her position, she had the unique opportunity to get her face out there for the students to see.
"I went to evangelism classes and took my time making sure people knew who I was," Andrews said. "Overall, the election for me was pretty relaxed."
Andrews and other elected candidates will fill their roles as student government officers in the next
academic year.