Pattie Mallette inspires students
Best selling author and inspirational speaker Pattie Mallette addressed Liberty University's student body during Convocation Monday, Sept. 30.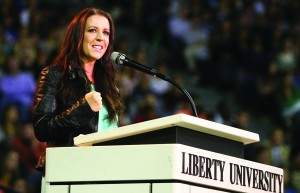 Mallette, who is perhaps best known as the mother of celebrity singer-songwriter Justin Bieber, shared her personal testimony with students, outlining the journey of faith that ultimately led her to God.
Mallette's story, which is detailed in the New York Times bestseller "Nowhere but Up," proves that despite current fame and celebrity, the young mother was no stranger to hardship and struggle. Raised in a home with an abusive father and a mother she described as "emotionally unavailable," Mallette told students about the events which eventually led her to an unplanned teen pregnancy and attempted suicide.
Despite a past shadowed by memories of abuse, neglect and addictions, Mallette credits her faith for the healing and redemption that has since redefined her life.
"Faith plays a huge role in my life," Mallette said. "I don't think that I would be able to have made it through the difficult situations in my life if it wasn't for my faith."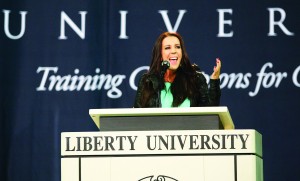 As an example of overcoming the discouraging "you are only" statements, which trap people in their circumstances, Mallette shared the familiar David and Goliath passage from 1 Samuel 17.
"David makes one of the greatest leaps for anyone, in my opinion," Mallette said. "He goes from 'someone should do something about this' to 'I will be the one to do something about it.'"
Mallette encouraged students to take that leap.
"We have to develop the attitude like David that says, 'I will do whatever it takes to fight against oppression and injustice,'" Mallette said. "In spite of the condescending disapproval and the sheer size of the feat ahead of him, something rose up inside him against injustice to take action."
Mallette said she has now dedicated her life to providing second chances to those in need. When asked about the impact she has had, Mallette recognized her difficult past and the story she may now share because of it as the reason for her success.
"I've been able to visit so many teenagers in different programs and projects," Mallette said. "I've met girls at the Dream Center, and I've done some visiting to the Covenant House in New York."
In addition to supporting various pregnancy centers and homeless youth shelters, Mallette has also recently launched her own foundation, Round 2, which provides resources and assistance to those in need. With her own personal experiences in shelters and on the streets, Mallette says she hopes the foundation will be a resource to adolescents and adults in distress.
Though she will always be known as Justin Bieber's mom, Mallette has proved that she, too, has a voice and a story that deserves to be told.