Cuccinelli rallies Lynchburg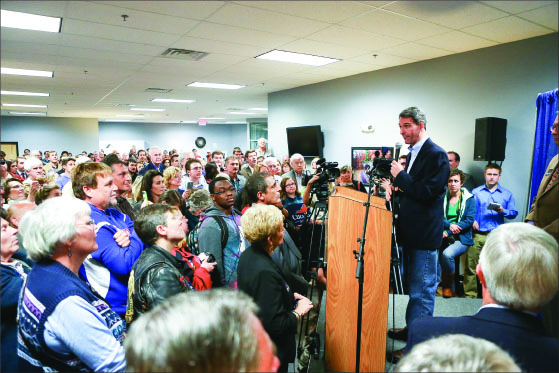 Republican candidate for governor visits campus and attends event with Mike Huckabee at Candler's Station
Virginia Attorney General gubernatorial candidate Ken Cuccinelli visited Liberty University Saturday, Oct. 19 to meet voters and attend the Flames Homecoming football game before holding a rally with special guest Mike Huckabee that night.
Fans entering the gates to see Liberty take on Coastal Carolina University had the chance to meet and shake hands with Cuccinelli. According to him, that style of campaigning will be very important in the weeks before the Nov. 5 election.
"When you get close to the end and people start actually asking questions, having a live human being to answer them — there's no substitute for that," Cuccinelli said. "… So that's what we're focusing on."
Following the recent government shutdown, NBC News reported Thursday, Oct. 17 that Democrat Terry McAuliffe led Republican Cuccinelli 46 to 38 percent in a poll of likely voters.
After watching some of Liberty's loss to the Chanticleers, Cuccinelli and local supporters gathered at the Liberty Mountain Conference Center for a rally. Delegate Kathy Byron, Senator Steve Newman and Congressman Bob Goodlatte shared their views on women's rights, the Virginia economy and the importance of the race before Cuccinelli emerged to a sea of blue, "Cuccinelli for Governor" signs.
During his speech, Cuccinelli covered his plan to create jobs, his opposition to rising electricity rates and his support of limited government, among other
topics.
"The best thing our government can do for our economy is get out of the way," Cuccinelli said. "Our greatest resource in Virginia is Virginians."
Former Arkansas Governor Mike Huckabee closed the night by expressing his support for Cuccinelli and highlighting the importance of the Virginia gubernatorial race on both the state and national levels.
"This race is about a lot more than Democrats and Republicans, and I do hope you realize that the eyes of America are on this race," Huckabee said. "There are a lot of people who are going to look at this race, and they're going to say, 'Whatever happens in Virginia is a bellwether for 2014 and 2016.'"
Liberty President Jerry Falwell, Jr. agreed. He and Cuccinelli discussed during the football game how important it is for Liberty students and Lynchburg area voters to show up at the polls and vote on Nov. 5.
"There are so many government employees in northern Virginia who tend to vote more and more for big government candidates," Falwell said. "Voters in this area need to counter that trend."
Liberty Student Body President Josh Warner recently endorsed Cuccinelli for the job, according to a press release from the Cuccinelli campaign. Warner cited the positive effect that Cuccinelli's plan to create 58,000 new jobs will have on college graduates looking for work.
"Among the students, that's key," Cuccinelli said of Warner's endorsement. "We want to try to win under 30s, and to do that, we certainly have to win at Liberty."
Liberty students Montgomery Pace and Ian McConnell, who both have been involved with the Liberty chapter of the College Republicans, spent their Saturday handing out Cuccinelli stickers at the football game and attending the rally.
"It's always great to have candidates on campus," Pace said. "I think it really helps. Students on campus tend to be a little apathetic sometimes when it comes to politics. They don't realize the rest of the world is not as conservative as Liberty is, so it's always nice to have the candidate here."