Piper brings global focus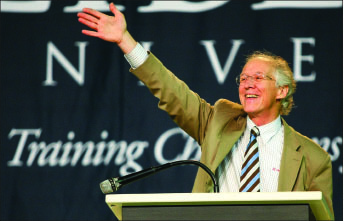 Liberty University's Center for Global Engagement (CGE) hosted its biannual Global Focus Week Sept. 16-18, welcoming more than 60 mission agency representatives and prominent guest speakers such as John Piper, Naghmeh Abedini and Bob Creson.
According to CGE, Global Focus Week is a semesterly tradition that encourages students to delve deeper into the world of international evangelism and global work. The theme for the fall 2013 event was "Take Your Degree Global," a movement that CGE is encouraging students to get involved in by adding a minor in global studies.
John Piper, theologian and chancellor of Bethlehem College and Seminary, kicked off the week of events with his Convocation message Monday morning, Sept. 16. In his first visit to Liberty, Piper challenged students to find joy in persecution for the name of Christ and embrace suffering for a death-defying gospel.
"Confidence in fullness of joy and pleasures forevermore in the presence of Jesus on the other side of this so-called dying is the root of love that is willing to lay down its life for the sake of the nations," Piper said. "This confidence that you cannot die but only have increased pleasures produces martyrs who die in love, not martyrs who kill from hate."
Also at Convocation on Monday was fellow guest speaker Naghmeh Abedini, wife to imprisoned Iranian-American pastor Saeed Abedini. Naghmeh Abedini shared her testimony and the trying times her family has faced since her husband's eight-year sentence in Evin Prison in Tehran, Iran.
"The kids and I desperately want him back, but we are proud that he has chosen to stand up for his faith and to proclaim the gospel in a dark prison and bring hope to those people," Naghmeh Abedini said.
Before leaving, Naghmeh Abedini urged students to boldly proclaim Christ to the world.
"I pray that the Lord would awaken your desire to ask for nations for your inheritance, and that you would be on fire for the living God," Naghmeh Abedini said.
The Children of the World choir from WorldHelp performed at Convocation, followed by a presentation from president of Wycliffe Bible Translators Bob Creson, Wednesday, Sept. 18.
Creson spoke to students concerning his life calling to make the gospel available to every tribe and tongue. He also encouraged students to become involved in the "Race to 2025," a project dedicated to producing the Bible in every language by the year 2025.
Global Focus Week also presented students with the opportunity to meet representatives from several of Liberty's partner organizations, as well as participate in events such as Experience France, hosted by Christar, and Experience Bible Translation, hosted by Wycliffe.
Nathan, whose full name was withheld for safety reasons, is a Global Teams coordinator at CGE and one of several personnel from CGE that helped bring Global Focus Week together.
"I thought Global Focus Week was fantastic," Nathan said. "Having Dr. Piper here was a great way to kick it off, but overall, I think it set the tone for what our school is about in training champions for Christ and recognizing that Christ has a heart for the world."
According to Nathan, many students were able to gain awareness of what God is doing around the world and how they can engage in that.
"By God's grace bringing people into our paths, both myself and a lot of people here in the office had conversations with students about short term trips and how to get involved," Nathan said. "There were also conversations with students who have been involved in short term trips and want to know what the next steps are to be able to pursue working overseas long-term, which is really exciting."
According to Nathan, who has spent significant time in France, the Experience France event was very authentic.
"It was cool to see students engage in a culture, French culture as well as North African culture, and gain perspective on what life is like for people of different cultures, as well as what it is like to be a worker in another cultural context," Nathan said. "A lot of students were interested in what God is doing in that area of the world."
Tucker Whitley, a junior and global studies major, was one of the many students who was able to speak with representatives from various organizations, most of whom have spent years of their
lives overseas.
"Global Focus Week, especially during the fall when we are able to work closely with all of our partner organizations, is very impactful," Whitley said. "I love getting to know the representatives. They were able to mentor us, and seeing them throughout the back hallway of DeMoss was almost like walking through a hallway
of family."
Whitley enjoyed listening to the week's speakers, and even took a picture with Piper.
"John Piper, of course, was awesome," Whitley said. "It was a dream of mine to meet him. I was able to thank him for being one of the greatest encouragements of our age and of our generation. He definitely challenged us, and I'm going to take that challenge personally and follow the great commission with all my heart."
According to Whitley, Global Focus Week offered students a practical picture of mission-centered living.
"When representatives come here, students are able to see them face-to-face, they are able to ask questions, and they are really able to put their hands around what the great commission actually is," Whitley said. "That is so valuable. It is something that we definitely should take advantage of, and I think it was so helpful so that we can, as students, get a glimpse of what great commission work is, especially global work."
According to CGE, Liberty will host its spring 2014 Global Focus Week Feb. 9-14. To learn more about Global Focus Week or how to "Take Your Degree Global" visit liberty.edu/globalengagement or email cge@liberty.edu.