Peace Corps nomination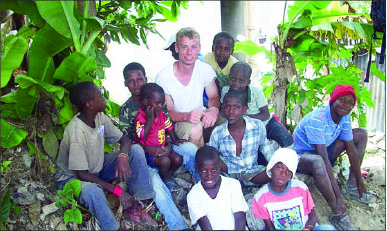 This summer, the U.S. Peace Corps nominated a Liberty University senior for a global, two-year business management project.
According to the Peace Corps website, a nomination is the step between the interview and invitation.
After the applicant is nominated, if his recruiter decides that he is qualified and he passes all the other clearances, the applicant will receive a written invitation specifying the country he is assigned to and his job responsibilities he will have, according to the Peace Corps website.
According to Adam Lawrence, a senior international business undergraduate student, he waits for his invitation to travel overseas with the U.S. Peace Corps. Once invited, he will depart on a two-year project scheduled for June 2014.
"Most projects won't develop until we are in the country," Lawrence said. "It's very independent. The Peace Corps volunteers are in charge of working with native partners to develop a plan."
Lawrence applied for the program in May of 2013. He has international travel experience in 15 countries, including a four-month business study abroad program in Belgium. Lawrence also has mission experience teaching English in Russia and building three houses in Haiti a year after the earthquake.
"They want someone that has international experience but has done more than travel," Lawrence said. "They want someone that can integrate themselves into a different culture that is completely foreign to them."
According to Lawrence, volunteers are nominated after a process of background checks and medical clearances. The best candidates are chosen from a pool of several applicants.
All Peace Corps volunteers receive funding by the federal government. The government covers flight expenses, as well as basic living needs. Lawrence said that volunteers receive two vacation days per month after working six months overseas.
According to Lawrence, his biggest worry about overseas travel is his ability to adapt back into U.S. culture after travelling for two years in a third-world country.
"It's my perspective of the world that has changed, and you don't know how it will affect you," Lawrence said. "Living in a third-world country, you're most likely not going to have access to running water and electricity. It's going to be very basic."
In the future, Lawrence hopes to use business development to aid people internationally.
"That means creating a business that provides people with things that they need," Lawrence said. "It provides people with jobs. It provides people with a sustainable income.
There's a lot of businesses that are growing really fast, and there's a lot of basic needs that people don't even have met."
For more information on the Peace Corps, visit
peacecorps.gov.