Zumbathon raises awareness with MDA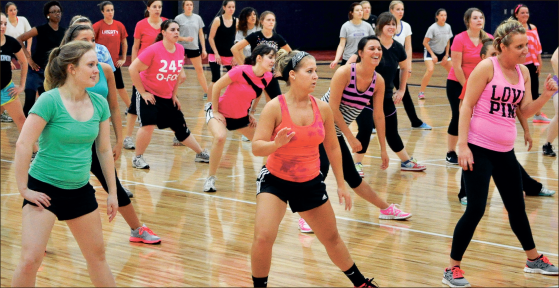 Liberty University's women support the Muscular Dystrophy Association while getting active, April 26
Ladies at Liberty University had the chance to get active in a fun way while donating to the Muscular Dystrophy Association (MDA) at the Zumbathon hosted by Med Serve, a student-led club on campus. The event was held April 26 in the Schilling Center from 8 p.m.—11:30 p.m. and was only open to women participants.
The event was held in order to raise awareness and funds for MDA. The women who attended the event were told about MDA and given instructions to find more information on the cause. In order to help raise funds for MDA, all participants paid $5 at the door.
"This event has been a blast," Med Serve Treasurer Kayla Weston said. I am thrilled about the turnout. I am hoping that we raise a lot of money for MDA. Every dollar makes the event a success."
The women filled the gym while instructors taught the moves on a stage. There were three instructors, including two Liberty gym employees.
The instructors alternated showing moves, each teaching the lessons to the women in a unique teaching style. There were several breaks for rest as well, and free waters were provided.
"I came because I know the instructor and I wanted to support such a great cause," senior Kelly McMullen said. "I like having fun while being active, and this event has such a great atmosphere."
Although this particular event was only open to women, Vanessa Collins, member of Med Serve, said she would like to see events for guys in the future as well.
"This is the first event we are actually hosting for students to attend," Collins said. "Usually, we are connecting people to the medical needs in the community by going to various nursing homes and clinics.
We have never hosted an event just for students. We decided to make the Zumbathon ladies only so that there was less pressure on the girls and they could really just get active without worrying about the opposite gender watching them."
Med Serve is a new club on campus, founded two years ago from the Pre Med Club. This year, Med Serve has been involved in March of Dimes, Freedom 4/24, and the Coleman's run.
Students can join Med Serve, become a part of the leadership or volunteer to assist as a part of their required community service hours at Liberty.
"Med Serve is dedicated to connecting students to one another and to the medical needs of their community," Collins said.
For more information on Med Serve, email Vanessa Collins at vncollins@liberty.edu or visit facebook.com/Liberty-University-Med-Serve.