Video hits 46 million views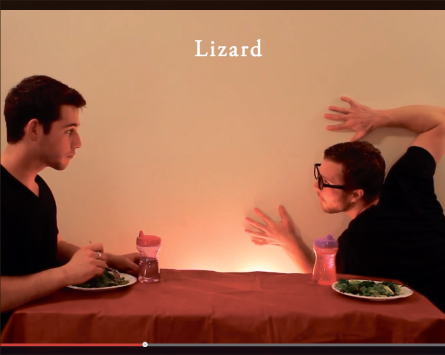 What started as a funny idea, has become a viral YouTube sensation
The pseudonym "MisterEpicMann" may not ring many bells, but perhaps "How Animals Eat Their Food" does. What some people might not know is that the two individuals featured in the viral video are Liberty University students junior Nick Sjolinder and senior Ian Deibert.
The YouTube video was posted one week ago and has already accumulated more than 46 million views. To put things in perspective, the new "Hunger Games" sequel trailer, "Catching Fire," has only gained a little more than 22 million views after six days.
According to Sjolinder, he bases the ideas for his videos on improvisation.
"I came up with the idea for 'How Animals Eat Their Food' the way that I come up with my other video ideas, which is waiting for (the idea) to pop in my head," Sjolinder said. "I always try not to plan too much ahead for my videos."
Sjolinder and Deibert met when they were placed as roommates on Dorm 10.
"We both had a crazy amount in common, especially our love for art, media and idiotic laughter," Deibert said. "When he started showing me his old YouTube videos he had made for his channel back in high school, I thought they were hilarious and wanted him to put them back up. He finally agreed, and since last fall, we've been filming new videos."
According to Deibert, the popularity of their videos is due to the rapid response from friends, relatives and "faithful" YouTube subscribers.
Sjolinder is currently studying at the Zaki Gordon Cinematic Arts School.
"With me about to graduate and (Sjolinder) in film school, we've had busy schedules, which made finding time to film difficult at times," Deibert said. "We had no idea the explosion in exposure that was about to take place. For about a week, we were officially the fastest-growing channel on YouTube, surpassing all others in the rate of our subscribers per hour."
According to Deibert, videos from their channel, "MisterEpicMann," have appeared on Dutch news stations and all over the Netherlands, as well as on many major, international blogging and social media websites. Their latest video was featured on the blog Mashable.
"We've been invited to and are planning on attending VidCon — which is like ComiCon for YouTube — this summer in California," Deibert said. "It's just been such a crazy, surreal ride so far. We've been so blessed and can't wait to see what God has in store for us next and how we can use this platform for his kingdom."
Sjolinder hopes to break into the film industry, and his YouTube videos may help him achieve that.
"For me, this is especially exciting, because the videos have opened up some doors in Los Angeles, but at the same time, I want to glorify God through all of this, which means I really need to consider my steps wisely," Sjolinder said. "(Deibert) has been a great partner for the videos because he is always willing to go along with whatever idea I throw at him."
In "How Animals Eat Their Food," Sjolinder is the protagonist portraying the different animals, and Deibert is the straight-faced antagonist.
For more videos from Sjolinder and Deibert, visit youtube.com/misterepicmann.