Lock receives CSER award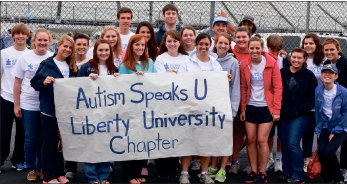 Senior Kristin Lock was presented the Christian Service (CSER) Volunteer of the Year Award Wednesday, April 24, for founding a chapter of Autism Speaks U (AUS) at Liberty University.
"I thought it very fitting that it happens to be Autism Awareness month, and this year's award recipient was responsible for founding the Autism Speaks U chapter at Liberty," Darren Wu, Liberty's CSER coordinator said.
According to Lock, she first got involved with helping people who have autism after working at a camp for kids with autism three years ago.
"That's where I was really intrigued by them and just who they are as individuals," Lock said. "They are just different in the ways that they interact with people, and I thought that was interesting."
Lock started ASU at Liberty in the fall of 2012. The goal of ASU is to raise awareness and funds for research as well as to reach out to local individuals with autism and be a positive light in their lives, Lock said.
"When Kristin first began ASU in fall 2012, the original fall membership goal set in September by ASU was 30 members for the first year," professor Deanna Keith said. "By the end of the fall semester, membership had reached 60 members. Currently, there are 70 members in the ASU (Liberty chapter), which is double the typical membership, according to ASU, for a school of our size."
According to Lock, ASU has grown tremendously at Liberty.
"It is really encouraging because one in 88 individuals are diagnosed with autism and one in 54 are boys … There's more (children) diagnosed with autism than aids, diabetes, and HIV in children combined," Lock said. "It is good to get university students attracted to it so that they can learn more about it."
Since starting ASU, Lock has raised over $9,000 for the program, according to Keith.
While at Liberty, Lock has also worked with the Council for Exceptional Children and, two days a week, looks after a boy who has autism. Lock is a special education and elementary education dual major, and she said that these things, along with ASU, have helped to prepare her for her future.
"I hope to teach (in) an autism classroom … or teach a transition classroom for individuals that are graduating out of high school and (are) searching for jobs," Lock said. "I'd like to help them in that period, as they try to figure out their lives and what they are going to do next."
According to Lock, starting ASU has helped her to learn the importance of giving back, along with the fact that some people have a great misunderstanding of autism.
"People might think that someone with autism that can't talk has a low IQ and that is not true at all," Lock said. "They are all very capable of communicating in different ways and they still have opinions and feelings … just because they can't express them with their mouth doesn't mean that they don't feel the same way we do."
After seeing the passion that Lock has for autism awareness, Keith claimed that there was no one better suited to win this award.
"I believe it is the essence of who Kristin is as a person that makes her such a phenomenal individual and so deserving of this honor," Keith said. "Kristin possesses such character and leadership that she will be an amazing representative of Liberty University."
In the future, Lock said she hopes to stay a part of Autism Speaks by bringing it to whatever community, school and classroom she will be serving.