Flipping the energy 'Switch'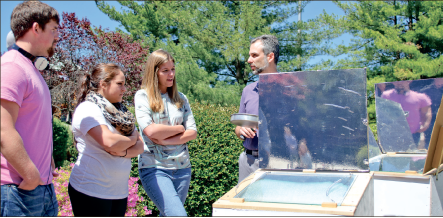 Liberty students recently had the opportunity to learn about various energy resources by attending a showing of the energy documentary "Switch" and hearing from experts in the energy field in DeMoss Hall, April 22.
Marcus Ross, who developed the event, said about 250 students were present to view the film, which examined the current energy situation and discussed the viability of alternative energy resources.
In "Switch," geologist and energy expert Scott Tinker traveled the world and talked with professionals representing several energy resources. He discussed the economic and environmental impacts of oil, coal, nuclear, hydro and renewable energy.
According to Ross, Scott Hicks, the dean of Liberty's School of Business, played a key role in giving students the opportunity to hear from a panel of energy specialists after the film.
"It was really good," Ross said. "The panelists were chosen and contacted through the School of Business. Hicks has had extensive experience in the petroleum industry, before he came to Liberty University, and still works with (the oil companies) as a consultant."
The panel included Daryl Gordan of Areva, the world's largest nuclear corporation, Brandon Martin of Dominion Resources, a company providing energy throughout the east coast, and Hicks.
"I really have to thank Dr. Hicks for helping (to) set up a panel of folks representing petroleum, natural gas, electricity and nuclear, and that's a lot of expertise right there," Ross said. "It's not just somebody local, who is interested in energy issues but has an agenda. These are guys who work for these companies.
They brought a really big level of knowledge to talk about, in detail, some of things that the movie could only describe at the surface."
Ross said he reached out to departments in any area of study that could be related to the film. Students in science, business and engineering were among the event attendees.
According to Ross, Liberty's chapter of Enactus was also heavily involved in the film showing. The organization consists of students and professors studying how business can create economic development in third-world countries.
Ross also noted that his specialty as a professor is primarily paleontology. However, teaching his earth science class sparked his interest in energy.
"I'll be making a class for the School of Business," Ross said. "(The Business School) came to the Biology Department and said the administration would like us to create a green sustainable management emphasis (class).
I volunteered to do a course on energy resources and efficiencies … so this class has really helped me get focused."
According to Ross, his new course will discuss the ways individuals can save money and create financial investments through their energy choices.
Ross said he even built an investment of his own, a solar oven that heats up to 300 degrees by using the energy of the sun alone. He hopes to educate students so they can make better decisions in the way they use energy.