Bridal show provides ideas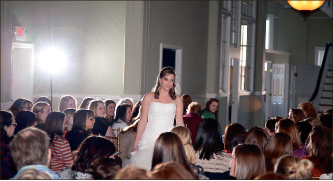 Soon-to-be brides were invited to attend the annual Bliss Bridal Show at Tresca on 8th in downtown Lynchburg Sunday, March 3.
Brides attended numerous workshops designed to help them plan their upcoming weddings. Participants were welcome to visit various vendors from the Lynchburg area from 1:30-5:30 p.m.
Jennifer Prince, owner of Hill City Bride and Clutch, a business dedicated to bringing resources to future brides through print and the Web, coordinates the annual event.
"I really wanted to do something to educate the brides," Prince said. "The premise of this event is to help the bride feel empowered to plan her wedding the day after attending."
Brides were treated with a fashion show featuring wedding gowns from Celebration, catered food from Cater This and Love Is In The Air, an interactive photo booth from Lynchburg Snapshot Studio, and a grand prize of a Jamaican honeymoon giveaway along with various door prizes.
"When I attend this event, I learn many practical things that I can use while I am planning my wedding," participant Shannon O'Brien said.
Workshops were offered for the brides to attend, including Do-It-Yourself (DIY) for Brides, Tending to Your Attendants, Beauty Outside the Box and The Less Stress Bride.
"Sessions are meant to be helpful in general, and not just steer a bride toward a particular venue," Prince said. "We offer workshops on budgeting your time and money, personal style, and how to be a DIY bride without getting up in all the details, and we offer a dance session."
Prince said that she had many friends in the wedding industry who saw the need for a local wedding blog in Lynchburg since weddings happen so often. In response, she began Hill City Bride at hillcitybride.com.
Prince's goal is to plan upscale events to help brides as they prepare for their special day.
"I would recommend attending this event to any future bride. The experience is a good one. I was able to decide on a photographer and a caterer for my June wedding," participant Molly Carter said.
Hill City Bride is planning another Bliss Fine Wedding Affair for the fall in Roanoke. They are also planning a venue tour entitled Bliss the Venue Tour for Nov. 10 of this year.