Flames unable to win two straight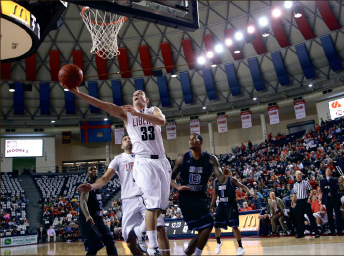 Liberty men fall to visiting High Point University Panthers, 73-68, Sanders scores 23 in losing effort
The High Point Panthers men's basketball team (15-10, 10-3 Big South) held off the Liberty Flames (9-18, 5-8 Big South) 73-68 Saturday, Feb. 16.
The Flames, junior guard John Caleb Sanders scored a game-high 23 points.
The Flames were fast out of the gate, claiming an early 11-8 lead after a 3-pointer by junior guard Davon Marshall. High Point answered with a 10-0 run to open up an 18-11 lead.
Liberty responded with a small run of their own, managing to cut the margin to 25-22 after a fast break dunk by senior Tavares Speaks.
The Panthers size and strength in the paint was a major factor throughout the game. This was orchestrated by forwards Allan Chaney, who recorded a double-double with 16 points and 13 rebounds, and John Brown, who led the Panthers with 17 points on the night.
"They have two exceptionally good post players that came out very physical and aggressive," Speaks said. "(They) kind of hit us in the mouth and caught us off guard."
High Point was able to close the first half on a strong run and carry a 35-24 lead into the locker room.
"You give them credit," Head Coach Dale Layers said. "They came out with a lot of fire and did what they were supposed to do. Chaney and Brown are loads inside, and we knew that going in, and I thought they dictated everything in the first half."
The Panthers would not leave Liberty without a strong opposition as the Flames battled their way back in the second half.
"We played so much better in the second half," Sanders said. "When High Point gets you down like that, they are not going to let you back into the game without a fight."
In the second half, Liberty was much more aggressive and was led by Sanders play, who scored 19 of his 23 in the second half.
"We showed a lot of character in the second half," Layers said. "We battled, and that's the way we should have played for 40 minutes."
Redshirt sophomore forward Sommy Ogukwe blocked a dunk and, the crowd erupted, helping spark a 9-2 Liberty run. Sanders capped off the run with a three, which led to a Panther timeout.
However, the tie game would not last for long, as the Panthers opened up a 57-47 lead, one that they would not surrender again despite a resilient comeback attempt by the Flames.
"We did not make enough shots down the stretch," Layers said. "We got to give them credit. …When you spot a good team 11 points, it's hard to battle back."
Liberty was able to close the gap to two after a pair of 3-pointers by junior guard Casey Roberts ignited a 10-2 run. However, costly mistakes by the Flames in the first half and excellent free-throw shooting by the Panthers down the stretch were the ultimate deciding factors of the game.
"We play 10 better minutes in the first half instead of a bad 20 minutes, and we might get a win here," Sanders said. "It hurts to lose a home game no matter how good the team is."
Although the Flames had a tough loss, they are already looking forward to bounce back.
"We are going to sit back down, look at this loss and go to the chopping board again," Speaks said. "We definitely lost a close game, but it just gives us that much more motivation to come back and fight harder."
The Flames will return to action when they travel to take on the Longwood Lancers Tuesday, Feb. 19. Their next home game will host Austin Peay as a part of the Ramada Worldwide BracketBusters at 4 p.m. Saturday Feb. 23.