Run, run Rudolph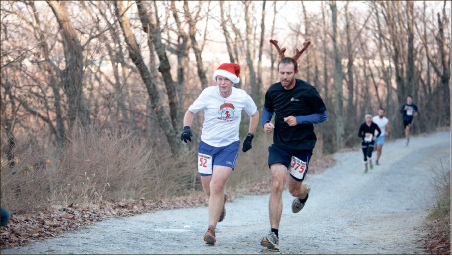 Student Activities' third trail race brought Christmas cheer to runners
Liberty students and the Lynchburg community gathered for the annual Reindeer 2-mile run hosted by Liberty University Student Activities (SA).
The race started at 9 a.m. Saturday, Dec. 1 at the Liberty Mountain Snowflex Centre, and awards were given out for the most creative costumes.
"I would say my overall experience was an eight. I really enjoyed the run, and SA made it really fun," Liberty junior Chelsea Husovich said. "The hills were really rough. I decided to run because my friends thought it would be fun for all of us to do it together."
Leah Durham, a sophomore at Liberty, participated in her first SA trail race in the Reindeer Run, and she finished her race in 30 minutes and 15 seconds.
"It was rough because half of the race was uphill, and part of it was on a gravel road," Durham said. "Almost everyone walked."
Durham said that she felt cold as the race was starting, but as she conquered the many hills in the course, she felt increasingly warm. After the race, she collapsed in the grass after the race to cool off.
After she had recovered from the strenuous race, Durham witnessed one of the winners of the most creative costume contest, a student dressed up as a "redneck Santa," complete with a denim shorts, fake teeth, a stuffed shirt and a duct-tape belt. Durham wore a Christmas sweater with a Santa hat and Minnie Mouse ears.
Durham said that she appreciates SA hosting their trail race series because it gives her a fun way to keep running and stay in shape. Husovich also has a similar view on the races.
"I really do appreciate that Liberty does these events because it's an opportunity to not only spend time with my friends but also meet other people who are interested in the same activities I am," Husovich said.
For more information on races offered by Student Activities, visit liberty.edu/sa.