ROTC students face trials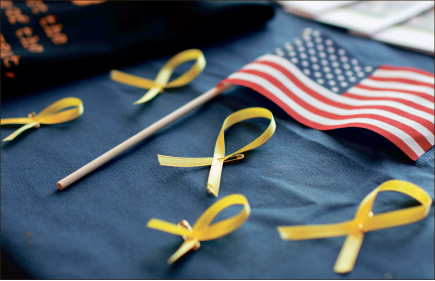 ROTC programs across the country are cracking down on their acceptance policy this year.
According to Liberty junior Cadet Josh Warner, ROTC scholarships are very competitive. Too many students want scholarships, but not many scholarships are available because the army is cutting back the budget. For this reason, ROTC programs must be extremely selective with their applicants. Not all of the students who make ROTC can receive scholarships.
The ROTC is a military program that gives people the opportunity to get a college education while simultaneously pursuing a career in the military. When they graduate with a four-year degree from college, ROTC students will get a commission in the army as a second lieutenant.
According to Capt. John Ezzo, it is not hard to fulfill the required number of ROTC students because of all of the incentives the program provides.
To help deter students from applying for these scholarships this year, Liberty's ROTC program held a freshman orientation which explained the conditions and obligations required to be in the ROTC. The orientation was designed to help weed out students who are not capable to do the intense training and physical fitness that the ROTC requires.
"Our goal was to minimize how many students we have in the program because the army is downsizing, so we have to be very selective (about) whom we take into the program," Ezzo said.
According to Ezzo, leadership, physical fitness and responsibility are the three biggest objectives that the program focuses on, but not just anyone will get in to the program. Ezzo said that ROTC students are held to a much higher standard than the average student.
Liberty ROTC students recently went to Fort Pickett in Blackstone, Va. for an FTX (field training exercise), where they spent two days learning land navigational skills, ranger challenges and obstacle courses.
The purpose of FTX is to prepare cadets for the Ranger Challenge at the end of October. The Ranger Challenge is a series of events that cadets must compete as a team. This year, Liberty ROTC students will be competing against more than 30 different colleges on the eastern seaboard. These mini competitions test the cadets' understanding of land navigation, patrolling, leadership skills and infantry tactics.
FTX also prepares the cadets for the Leadership Development Assessment Course (LDAC).
Twenty-three senior cadets recently performed at LDAC, an evaluation ranking cadets based on their physical abilities, leadership skills and academic standing. One of those cadets, Rebecca Moschler, completed the LDAC this past summer at Fort Lewis in Washington State.
"Your freshman through your junior year, you are preparing for LDAC. It's a really big deal, and how you perform determines where you stand with your fellow cadets," Moschler said.
The ranking that a cadet receives through LDAC establishes what position he will have in the army once he graduates.
"Our program is growing with quality, rather than with quantity. The students here are very patriotic, and they want to serve. It's becoming an honor and a privilege to be a part of the program," Ezzo said.