Taekwondo now a club sport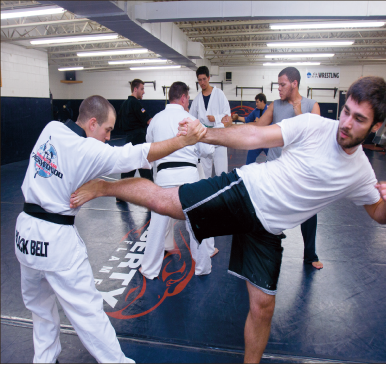 The world of martial arts will take a bigger stage at Liberty University as Taekwondo officially becomes a club sport. It is the 30th club sport to be added to the list of athletic options and is also one of 12 sports available to both men and women.
First-degree black belt Jesse Wilson has been given the position of head coach for the Taekwondo team this year. He has studied Taekwondo since he was 12 years old and has contested in hundreds of competitions, including regional, national and worldwide tournaments.
Besides his experience in the sport of Taekwondo, Wilson has been featured in Karate Illustrated for being ranked as one of the top five martial artists in the southeast region of the U.S. This is Wilson's first time teaching at a private college.
As a collegiate sport, Taekwondo artists compete as a team instead of individually at tournaments.
"It's a team effort, but it's a one-on-one confrontation," Wilson said.
Liberty will be competing in the Eastern Collegiate Taekwondo Conference, which consists of over 25 schools including Harvard, Yale, Penn State and MIT. Wilson said that he has no idea what to expect this season because some members are returning students and some are beginners.
"This year, as far as the team is concerned, I want to make a learning experience and at the same time build the team up," Wilson said. "In the past years, Taekwondo has been a student-led event—just a group of students getting together on their own time, working out and doing it for fun. Now that Liberty has taken an interest in making it a club sport, I'm trying to recruit new students from within the school."
Because Taekwondo is a sport that primarily focuses on hand and foot techniques, the competitions are more serious.
Senior Christian Booth has been involved with the Taekwondo club since he was a freshman. Booth said that he is looking forward to getting to know his teammates, improving his skills and competing on a collegiate level.
Another new member of the team, freshman Brian Preiser, has been practicing Taekwondo since he was 7 years old.
"It's a club that is currently small, but I think it is going to go a long way and grow and be something big one day," Preiser said. "The fact that we get to be part of the first true group, pioneers of the club, is really exciting. I'm really excited to see what the Lord has in store for us, and what coach Wilson has in store."
Taekwondo practices are held Tuesdays and Thursdays from 8:30 p.m. to 10 p.m. in the LaHaye Ice Center. Wilson welcomes students to join the new Taekwondo team, whether they have previous experience or not. He is taking new members all year long.