Global buffet teases taste buds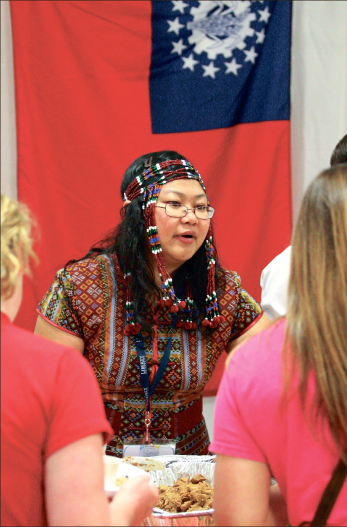 Students enjoy exotic cuisine served with big smiles at "Taste of Nations"
The aroma of a multi-continental smorgasbord and the chatter of students filled the air of the Tolsma Indoor Track Center on the evening of Wednesday, March 28, as the International Student Center hosted its annual "Taste of Nations" event.
"Our students look forward to sharing their culture and sharing some of the foods from their country," International Student Center Office Manager Tanya Panell said.
National flags, covered tables and international students clad in their respective traditional garb helped mask the facility's athletic appearance, transforming it into a cross-cultural dining center. Students paid the requested $2 donation and then sampled a wide variety of food, including dishes from Myanmar, Ethiopia and Ghana. Panell said that approximately 20 nations were represented, in addition to local businesses La Carreta and Shanghai Express.
"I really like it because people get to try food from different countries without having to go around the world," sophomore Sarida Smitthimedhin said. "It's really cool because the international students get to share their culture and their food with people, and I think it's really exciting for people to get to try my food."
Born in Thailand, Smitthimedhin said she lived in her native country for 15 years before moving to America. Her table served several Thai dishes, including Pad Ga Prao, a basil chicken entree.
Among the nations represented was Yemen, a Middle Eastern country that borders both Saudia Arabia and Oman. Dressed in his native Yemeni attire, graduate student Ali Al-hada shared several traditional Yemen dishes, including cooked goat. Although Al-hada prepared the food, he said that he did not start cooking Yemeni food until he was living in the U.S.
"My mom's a really good chef, and when I came over here, I actually missed the food my parents used to make," he said.
"I used to call my mom and be like 'How did you do this?' or 'How did you do that?' There's no measurements," Al-hada said, laughing as he spoke. "It was trial and error then."
Among the Yemen food offered was an apple and chicken stew called dajaj biltofah, Al-hada's personal favorite. In addition, he served mhashi zurbia, a beef-and-rice-stuffed vegetable platter, as well as flatbread and hummus.
Taking part in the evening's event was sophomore Amanda Isidro, an international student from the Philippines.
"I think it's pretty cool with all the countries coming together, because not a lot of people know the different cultures that exist in our school, and there are a lot," Isidro said. "So, it's good that all the international kids are coming out, especially with their food, which really explains their culture.
"It feels good to recognize people from home, especially when you're in a different country, and to have food from back home, because you don't get that a lot."
Isidro's comments complimented the International Student Center's goal for hosting the event. Panell said that the International Student Center hopes to bring in students and promote fellowship between both international and domestic students.
"We would love for everybody to just come (to the center) and hang out and know that this is a place to relax, fellowship, get to know each other and learn different things about each others' culture."