Editorial: A Trip to the Track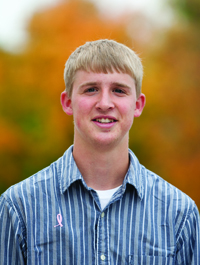 This past weekend, my roommate and I participated in an internship opportunity at Martinsville Speedway in Ridgeway, Va. for the Goody's 500 Spring Cup race. Our assignment was to help the head of public relations, Mike Smith, in the everyday duties that arise during a NASCAR race. From handing out race statistics to encountering journalists in the pressroom to taking pictures of the racecourse for the track's Facebook page, it was an experience for the ages. It's hard to beat a weekend that includes walking along the pavement, shaking hands with Jeff Gordon, and snapping a photo or two with the king of NASCAR himself, Richard Petty.
But before a majority of those reading this story shrug their shoulders and denounce the sport as nothing more than a few non-athletic rednecks making constant left turns while its hillbilly fan base screams in support, let me say this:
I once held a similar view, and I was wrong.
After attending a few races, I realized that NASCAR is a sport you must experience. It's not like football or basketball in the sense that it's not as television friendly to the average viewer, and NASCAR officials would likely even admit that. In football, the action seems to increase after every single play. Likewise, in basketball, the excitement seems to be continuous. From a fast break to a slam-dunk to a fade away three pointer, audiences are hooked.
But the thrills and spills of NASCAR are harder to transfer through a television screen. You can't explain the roar of the engines, the speed of the cars, the crunching sound of a crash, or the smell of the burnt rubber to someone who hasn't been to a race. Watching on cable just doesn't engage your senses.
Nor can you fully grasp the amount of skill the drivers have if you are watching it on television. Each inch is critical. Move one inch too close to the left side and you're crashing into someone's front bumper, which could easily send you both into the wall. One too many to the right, and you're bumping into the wall. There goes your paint job and more importantly, there goes your speed.
As for the drivers as people, it's hard to not respect them when you see them work. The focus it requires to drive how they do is unbelievable. Outside of the car, drivers are just as impressive, regularly stopping to say hello to fans and sign autographs whenever possible. You begin to realize that these drivers aren't the stuttering redneck drivers from "Talladega Nights: The Ballad of Ricky Bobby." They're friendly and approachable, yet vastly complex and competitive people.
And with race weekends come the little thrills. Truck Series races, which serve as a minor league of sorts for NASCAR, are held a day or two before the Sprint Cup races. For most of those drivers, a win could mean a few more weeks of sponsorships, and a crash could mean they're out of a job. Pressure is an understatement.
Another pleasure of being at a NASCAR event is not having breaks from the action with commercials or timeouts, and who doesn't enjoy that? It's nonstop racing from start to finish.
This fast race was the fourth one that I have had the privilege to work at, and I can say that this last race was just as good as the first. Still, many won't realize the significance of race weekends until they give it a try. Liberty's sports management program has provided trips to students to experience all of the ins-and-outs of the sport in past semesters. Other than Martinsville Speedway, recent classes have also been to Richmond International Raceway, one of the best tracks in the sport.
For those who have a bad image of NASCAR, I would simply say, "try it." You don't even need to go to a cup race. South Boston Speedway in South Boston, Va. and Motor Mile Speedway in Radford, Va. are both nearby racetracks less than two hours away that provide outstanding races for cheap prices this spring. Give them a shot and see if you're not hooked when all the dust settles.