Student designs take the stage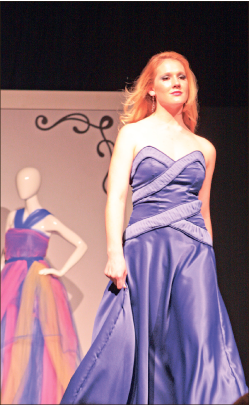 Heavy rain and a tornado watch could not stop Liberty's own version of Project Runway as student designers and models took to the runway Saturday, March 24, for the sixth annual FACS Fashion Show.
The theme of this year's show was "Lights. Camera. Fashion. Iconic Design." Student designers each picked one prominent designer such as Micahel Kors or Giorgio Armani, to fashion their work after.
Senior Gina Picht chose Betsey Johnson as her inspiration, saying that she loved Johnson's unique sense of style.
"She's very different. She's very wild and out there," Picht said. "I used lots of tule and hand stemmed my own fabric and used bright colors and ruffles. It's a lot more different and not as elegant. It's a little more wild and a lot more colorful."
Erin Cumbia fashioned her pieces after lesser-known designer Elsa Schiaparelli.
"She was kind of an unknown designer, so I thought it would be kind of interesting. She's not a safe designer. She kind of pushed the boundaries, and I really just loved the beautiful elegance and really simple designs she had," Cumbia said.
Doors opened later than scheduled because of heavy rain causing unexpected flooding toward the side of the Schilling Center, which was partitioned off into three sections. Crews worked quickly to clean up water an inch deep that was spilling in from the doors up to audience seating.
Despite the setback and a tornado warning, people were all smiles and dressed in their best as they waited in the first part of the Schilling Center. They greeted friends and looked at huge posters of the designers who had inspired pieces in the show. Dresses that exemplified different styles, such as eccentric and country club, were presented in the show. People also took photos on a mini red carpet and entered a drawing to win prizes such as gift certificates to Bloop Frozen Yogurt and Glamour Nail and Spa, as well as a pair of Coach sunglasses provided by Harmon Eye Center.
After a brief word from Fashion Show Director Ruth Bibby and Associate Director Katie Johnson, the show finally began, starting with a white Vera Wang inspired full-length gown. Twenty-seven models showcased the designs of 16 student designers, strutting down the long 30-foot runway styling full length evening gowns, casual spring dresses, blazers, pants and skirts in a variety of fabrics, colors and prints.
A panel of four local judges sat in front of the runway, analyzing the designs on aspects such as use of color.
After all the models walked the runway, Bibby and Johnson talked about the charity Threads of Hope. Half the proceeds from the event went toward this charity, which works to keep girls in the Philippines out of sex trafficking by providing at-risk families the ability to earn a steady income by making bracelets. Fashion show attendees could purchase bracelets and learn more about the organization at a table that was set up in the back of the Schilling.
"By sponsoring Threads of Hope and selling bracelets, a fashion accessory, at this event, we are helping people on the other side of the world," Bibby said.
Model Christine Purdy said knowing that the fashion show had partnered with Threads of Hope was her favorite aspect of it.
"This is a show that's targeted toward women and to know that half of the proceeds are also going toward helping women stay out of prostitution is wonderful," Purdy said.
After a short break, where judges deliberated and fashion show attendees enjoyed snacks and desserts catered by Sodexo, the models all came out with their designers to show off their work on the runway one final time.
Several awards were then given out, such as Best Runway Presentation and Best Use of Color. Junior Hannah Lynch won the grand prize, a $279 Serge machine.
"It feels incredible, just this whole opportunity has been such a great chance to try out designs, and I've just been so grateful throughout the process, so it's the icing on the cake to win," Lynch said.
Lynch, who chose Versace as her iconic designer, said she tried to make designs that utilized the Italian designer's love of color, fashion and design. One of her pieces was a mustard yellow jacket, something that incorporated not only Versace's notable style, but her own.
"I think I share a lot of similarities with him so it was really easy to make it my own. The jacket was something I had come up with on my own before hand, and then I tailored it to fit Versace's demands with the color and detailing so it really was an easy transition," Lynch said.
Planning for the show began in early June, when Howard chose the two directors. A launch party in October revealed the theme to designers and this began a seven month long process of picking models, fabrics, presenting sketches and producing garments.
Despite the looming storm, Howard said her team worked to encourage each other and pressed on to ensure the event's success.
"The kids were so pumped up and had worked so hard, and we kept saying that we were here to do this job and the show was going to go on even with the bad weather," Howard said.
Bibby said that despite the challenges that came wtih the the show, she was excited with the end product.
"There's been road bumps from the beginning right up to the actual show. But as we went into 20 mintues before the show, I knew everyone had everything together and the whole show went off without a hitch," Bibby said. "I was extremely happy with how everything turned out."