Coffeehouse tryouts begin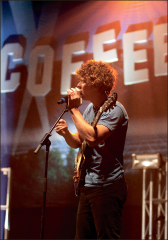 Big hair, neon colors and everything 80s will be taking over Liberty University's Spring 2012 Coffeehouse on March 30. The bi-annual show that fills the Vines Center each year is set to feature singing, laughter and videos, styled to take students back a few decades.
"We collectively picked 80s based off of our understanding of the student body and what is currently trending," Associate Director of Student Activities Alese Chandler said. "Granted, the student body is so very eclectic so we had much to choose from."
Students who have been tediously preparing to audition for the show will get their chance Feb. 27-29 and March 5-7 at the Tilley Student Center.
"The 80s theme offers a considerable amount of material for songs, sketches and videos," Chandler said.
Chandler noted that she hopes to see at least one cover of a Whitney Houston or Michael Jackson song because of the chosen theme.
"The nostalgia we, at Student Activities, witness is pure trend, whether brought on by an Urban Outfitters boot or a father's old record collection, and that's perfectly fine," Chandler said. "1980-1989 is so interesting and contagious, I'm not surprised it cycled back to heavily influence current trends."
According to Chandler, in order to fill the 2-hour time slot, Coffeehouse has to operate like a live show. Coffeehouse should be filled with creativity and showmanship, as well as a full range of musical genres from the 80s.
Coffeehouse tryouts will start each night at 5 p.m. and will operate on a first come, first serve basis. The Student Activities group asks that only 80s songs be covered to stick with the theme.
According to Student Activities Coffeehouse announcement, located on the Liberty Splash Page, "Time after time, people somehow miss tryouts. Before the 80s Coffeehouse celebration can begin, you need to rehearse and then come to 80s Coffeehouse Tryouts."